Scotland v New Zealand: Hail the conquering All Blacks

Last updated on .From the section Rugby Union78
All Blacks legend John Gallagher makes a startling admission when I ask him if he ever wonders if he might have been one of the great England full-backs.
"I don't think I would have made it in England at all," says Gallagher, who was born in south London and moved to New Zealand as a teenager.
"I was from Lewisham but I couldn't see a clear pathway. I would have had to have made a name for myself in New Zealand to be recognised back in England."
Which is, eventually, what happened. But not before Gallagher, a buccaneering 15, had won 18 All Blacks Test caps and the 1987 World Cup.
And it was to rugby league side Leeds that Gallagher returned, triggering an exodus of All Black stars to the dark side that only began to be stemmed when union went full-blown professional in the mid-1990s.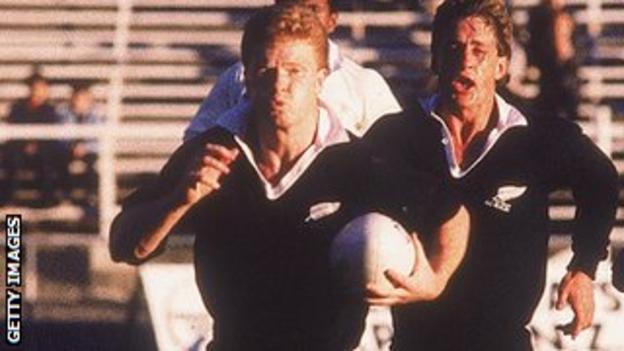 Watch footage of the 1987 All Blacks and you see a modern team transplanted to the past: full-tilt, 15-man attacking rugby that carried them to a world record 23-match unbeaten run, eventually coming to an end in 1990.
And so it is with the 2012 All Blacks, who kick off their autumn campaign against Scotland at Murrayfield on Sunday: just when you thought rugby had hit a glass ceiling in terms of fitness, pace and technical proficiency, Steve Hansen's outfit have found another dimension and moved things on again.
"They are potentially one of the best teams ever, especially coming from a World Cup win and then being able to take it to another level of excellence," says Michael Jones, also part of the 1987 World Cup-winning team. "They are playing better this year than I have ever seen them, certainly in the last decade."
The mark of true greatness is changing the way a game is played and during a 17-match unbeaten run that took in last year's World Cup and the recent southern hemisphere Rugby Championship, the latest All Blacks vintage have, for the most part, been playing a game unrecognisable from the rest.
"Every generation or so rugby will throw up a group of exciting players that is really pleasing on the eye," says Gallagher. "I'd like to think I was part of that between '87 and '89.
"The 1987 style of play all stemmed from John Hart's Auckland team of the mid 1980s. Before, a thrashing was by 20 points, but John Hart's team started beating other teams by 50 or 60. This was total rugby where they completely dominated every facet of play.
"The core of that team went through to the All Blacks in '87, mixed with boys from the other provincial sides, which made the team even stronger. It was a mentality as well as a way of playing and it required everybody, 1-15, to be fully aware that the ball could be going anywhere and everybody had to react.
"I see similarities with the current All Blacks. It's a team that can adapt to whichever style, based on the opposition. They can have parity with the best scrummaging sides in the world, they can throw the ball wide, and they've got players who can change game-plans as they go along, in particular Richie McCaw in the back-row and Dan Carter at 10, who is almost without peer."
Hansen was Graham Henry's assistant coach for seven years before he took over the top job so is unable to claim he masterminded a revolution. And New Zealand's victory at last year's World Cup arguably reduced the pressure he was under, allowing him to blend new talent into the squad and tinker with the system while a notoriously curmudgeonly set of fans was still bathing in glory.
But the real difference between the current All Blacks and the rest, says Hansen, is in pre-match preparation. The All Blacks' final training session of the week before a Saturday Test is held on the Thursday. In the morning the team will rehearse for the afternoon's training session, effectively training for training.
The key words are "clarity" and "intensity": tuning the mind so that it is at the correct frequency to be able to play instinctive rugby at a speed opposition sides are unable to live with. There was a time when All Blacks stopped for mistakes in training, as if to highlight the shame; now, the onus is on capitalising on the mistakes, fostering a high-tempo, counter-attacking game.
The relative lack of injuries in Hansen's squads suggests he is also managing workloads correctly, a key factor in an era of rugby in which it has been claimed a Test match takes a similar toll on the body as being involved in a car crash.
Then there are the Woodwardian details, such as the three separate magic potions, a sleeping pill and a hydration mask handed out to each player before a long flight in order to reduce the effects of jetlag.
But, as Sir Clive Woodward well knows, unless you've got the raw materials to work with, stuff like magic potions make you look more a crank than a genius. As England coach, Woodward was lucky to hit on a rich seam, which fuelled England to the 2003 World Cup. Current incumbent Stuart Lancaster is less fortunate, as most England coaches have been.
"New Zealanders are conditioned to play a certain way," says Gallagher, "and that way is total rugby. There is no real divorce between forwards and backs, everyone has to have good handling skills, everyone needs to be able to offload and that provides continuity. All the coaches from mini rugby to junior rugby to club rugby to the national side want to play this way.
"There are kids in Britain who have been taught to play this way but when they reach more structured representative teams and club academies, it becomes a bit more serious and a bit more disciplined.
"The home nations have got to say, 'look, for us to compete consistently, we've got to play this certain style'. And it's got to be something the heads of the home unions look to do from the age of 16. Because they know that if they play in this way, they'll have more mobile, fitter ball-handling forwards and backs that will receive the ball and know what to do."
So Hansen will throw hooker Dane Coles and scrum-half Tawera Kerr-Barlow into the fray against Scotland, safe in the knowledge they are already intimate with the All Blacks way. Just as he will shuffle his pack for the Tests against Italy, Wales and England, expecting the results to be the same.
New Zealand have not lost an autumn international in Europe since England narrowly beat them in 2002. Seemingly always in transition, always searching for a style of play, Europe's sides are almost always languishing behind.
Frightening to think there is another John Gallagher out there somewhere who may never be discovered: good enough for one of the All Blacks' greatest sides; not good enough to be noticed in England. His tale remains relevant today.