Scotland v New Zealand: Tim Visser is key, says Mike Blair
Last updated on .From the section Rugby Union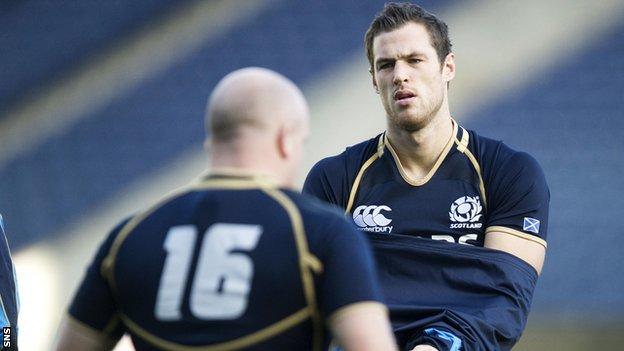 Mike Blair is urging his team-mates to work try-scoring chances for Tim Visser when Scotland take on New Zealand.
The Dutch-born winger, who qualifies under residency rules, will make his home debut at Murrayfield and scrum-half Blair thinks he can pose a threat.
"He's a phenomenal finisher and it's up to the team to put him in positions where he can finish," said Blair.
"He can't do it all by himself. It's harder at international level but we need to give him those opportunities."
Visser made his international bow during Scotland's summer clean sweep in Australasia and marked his first outing with two tries in a win over Fiji.
The 25-year-old has been the top scorer in the Pro12 for each of the past three seasons and Blair knows how lethal the winger can be from their years together at Edinburgh.
"If you look at the amount of times he has scored for Edinburgh there has been some creativity that have given him those opportunities and we need to do exactly the same," added Blair, who moved to Brive in the summer.
Attack coach Scott Johnson joined the Scotland set-up at the same time as Visser but the Australian was already painfully familiar with his talent - the winger once scored a five-minute hat-trick against his Ospreys team.
"You only have to look at him; you can't put in what God left out and he was standing at the front of the queue when it came to athletic prowess," said Johnson. "He's a gifted athlete.
"He will have an impact, there is no doubt about it.
"He has had a good start to his international career, but Tim's got to keep working on his strengths and take them to a new level because if he wants to be an international rugby player at the level we intend to get him, he's got to start developing and increasing his skills.
"He has got some gifts that I can't coach. But trust me, I'll take the credit for him when they do really well."
Johnson helped lead Scotland to victories over Australia, Fiji and Samoa in June, but he believes the inner confidence of the players was the crucial factor in improving from a team that had been whitewashed in the Six Nations.
"Confidence is a funny thing in sport," Johnson explained. "We had a remarkable win against Australia. Conditions suited us but it was really, really brave and that gives you impetus.
"Sometimes people can think about doing something, or it becomes instinctive. That little fine line is the difference between crossing the line or not doing so.
"So the reality is confidence. It's about completing. This team needs to complete, this team needs to be in competitions well into the game.
"We need to keep fighting and what was good about the summer is there were times when we went behind but we were always in the competition and we chanced our arm a couple of times and got the results.
"It's about understanding that you belong out there and understanding that when you're out there you can complete.
"You can't do it any other way - there is no magic wand."