Defensive errors against All Blacks frustrate Scotland coach
Last updated on .From the section Rugby Union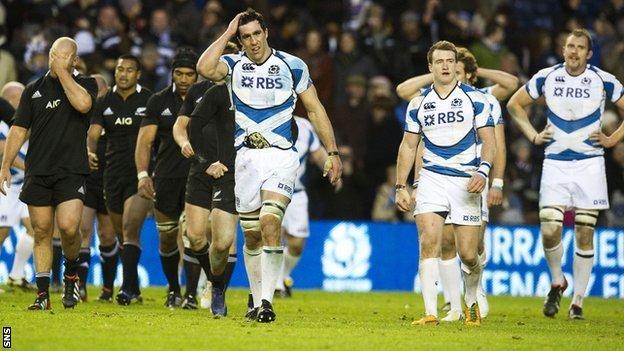 Scotland head coach Andy Robinson was left disappointed by his side's defensive display as
The visitors ran in six tries as they comfortably defeated Scotland by 51 points to 22.
And Robinson admitted to frustration that several of New Zealand's tries came from Scottish mistakes.
"Defensively, it was not a very good day for us. That was the disappointing part," he said.
"We got ourselves into good positions, we did a lot right - and then dropping off the tackles allowed them control of the scoreboard and basic control of the game.
"This is what international rugby is about, and you've got to stop the opposition from scoring."
However, Robinson, who confirmed that Ross Rennie dislocated his shoulder in the defeat, did take positives from the attacking display of the Scots, with two tries from Tim Visser added to by a score from Geoff Cross.
"It was good that Geoff got over just before half-time, but a quality side like that you can't give them the time and space.
"We put ourselves in a good position in those early stages but gave away a few easy tries after that, which is always disappointing.
"There were various stages of the game where I felt we were in it.
"We were not clinical enough and you give easy tries away and suddenly you're chasing the game again."
New Zealand's Adam Thomson was sin-binned for stamping on Alasdair Strokosch's head and citing commissioner Murray Whyte informed Robinson after the game the incident will be assessed over the next 48 hours.
However, Strokosch said: "It certainly wasn't malicious. There was no damage done. He barely grazed it.
"I would say the yellow card's fine. I wouldn't take it any further. It wasn't a big deal."
And All Blacks head coach Steve Hansen added: "It looked like he [Thomson] got frustrated because someone was lying over the ball.
"He placed his foot on the guy's head. He didn't stomp him, which was one good thing, but the rules say you can't.
"Someone will look at the game and they'll make a decision if what he did was with malicious intent or reckless. I suggest probably reckless and from there it will take its course."