Maestro Dan Carter pulls strings for All Blacks
By Ben Dirs
BBC Sport at Murrayfield
Last updated on .From the section Rugby Union30
Rugby union is a simple game made to look complicated by most that play it. Then there is Dan Carter, a man with that rare ability to make the complicated look simple.
It has been a few days during which two bona fide sporting greats bestrode the Scottish stage. On Wednesday, Barcelona's Lionel Messi was rendered human by Celtic at Parkhead. At Murrayfield on Sunday, and despite a similarly ferocious Scottish spirit, Carter looked like he was from another planet.
"If you give a guy like that time and space he'll pull the strings and take you apart," said Scotland head coach Andy Robinson. "He's a fantastic player.
"He has the quality of getting into a rhythm as if he's going to pass the ball and then he sucks you in. Pass, pass, pass, they're away. When he does break the line, the team normally scores, that's the quality of the man."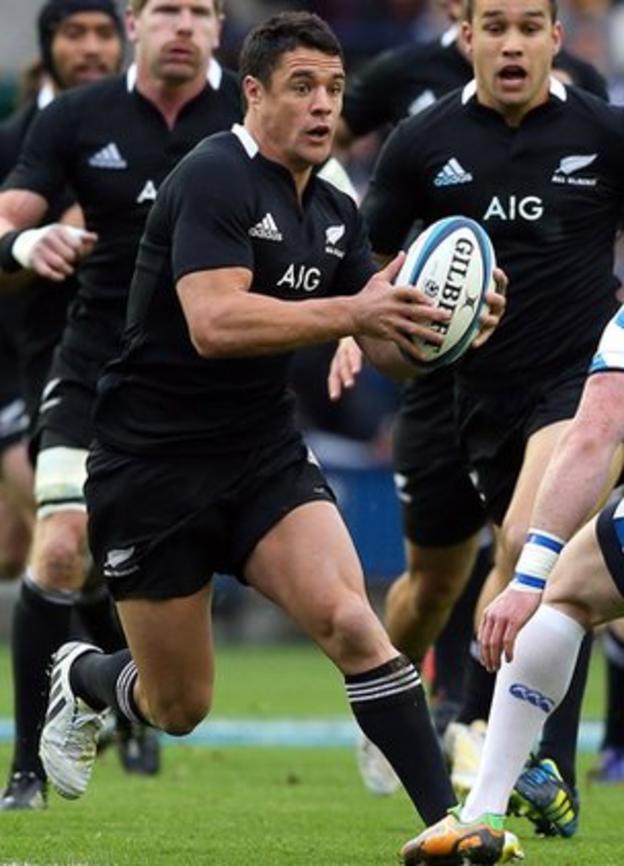 Of course, few things Carter does on a rugby pitch are simple in practice: pulling the strings for those around him so close to the gain line is a high-wire act that can go horribly wrong, as when his inside pass was intercepted by Matt Scott in the first half for Tim Visser and Scotland's opening try.
But you can only begin to add frills and flourishes when the basics are in place, basics such as pace, directness and a technical proficiency that has been honed for thousands of hours on training grounds across the globe.
Conversely, what appear to be frills and flourishes actually become the norm when the fundamentals have been mastered. Witness Cory Jane's try, the All Blacks wing diving over in the corner after the ball travelled down the line like a pebble skimming across the top of a lake. In contrast, too often northern hemisphere sides look like they're playing pass the parcel with a boulder.
And witness also Andrew Hore's first-half touchdown, the result of a resolute commitment to keeping the ball alive, the old-fashioned take and give.
Before the match, a Scottish newspaper accused Carter of arrogance for not knowing who was in the Scotland XV. "We want to focus on our performance, so we can walk off the pitch after 80 minutes and be really happy," said Carter. "Look at it like that and it takes the opposition out of the equation."
Not so much arrogance as perfect sense. Throughout their current 18-Test unbeaten run, Steve Hansen's All Blacks have concentrated on being fitter, faster, stronger, more practised and more focused than all the rest. So that when the opposition switch off, as Scotland did at the end of the first half, they are able to capitalise. Not by forcing things but by continuing to do the basics right.
Scotland's defence was poor at times but with Carter directing traffic and the play being sent in so many different directions, it was almost to be expected.
"When he takes the ball to the line he creates opportunities for others because he becomes a big threat," said Carter's skipper Richie McCaw.
"He seems to know when to have a crack - before one scrum he said he was going to have a go because he'd seen the space. He's got a pretty good knack of realising when it's on and I thought he had a hell of a good game."
Carter unpicked the Scottish defence twice with extravagant dummies before putting Israel Dagg in for New Zealand's opener, seamlessly switched play from right to left for the first of Julian Savea's two tries and produced an absolute lollipop of a cross-kick for Savea to score his second. Oh, and I almost forgot to mention, he also made nine out of 10 of his goal-kicks.
So while Robinson looked to be seething at the post-match news conference, he will know that to be shredded by this All Blacks outfit does not necessarily make you a poor team. They matched the visitors for intensity, if not skill, at times and will fancy their chances against a limited South Africa next Saturday.
The Springboks will present a completely different set of challenges to the All Blacks and will be infinitely less dimensional: the difference between taking on a martial artist with seven different black belts and a 22-stone wrestler.
Most importantly, the Springboks will not have Dan Carter in their side. As Hansen put it: "Unfortunately for Scotland, he did some wonderful things."