Paterson upbeat despite defeat by the All Blacks

By Geoff Webster
BBC Scotland
Last updated on .From the section Rugby Union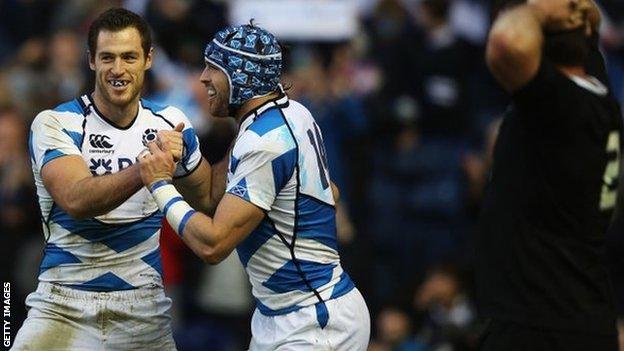 Scotland's record points-scorer Chris Paterson is confident they will bounce back from the defeat by New Zealand.
The Scots lost 51-22 at Murrayfield as attention now turns to next week's autumn Test against South Africa.
"They're a different proposition to New Zealand. South Africa have a Plan A but no Plan B," Paterson told BBC Scotland.
"Their Plan A is physicality: they're coming at you and over the top of you. If you stop that then hopefully Scotland can do well."
The Scots ran in three tries in their defeat at Murrayfield, with the All Blacks scoring six tries in an impressive display.
"Some of the tries they scored were reasonably soft," Paterson said.
"Other tries they scored were phenomenal. We scored three, which is a positive, but I think our coaches will be a wee bit disappointed with the defence.
"And, with the quality of the All Blacks, you can't afford to give them that.
"However, the score didn't really reflect the game. It's a negative letting them get to 51 points; I think even 44-22 would've shown that they were a better side.
"And it would've sounded a lot more competitive but that last try was a real killer."
Paterson said the Scots must learn to "do the simple things right" and insists they can beat South Africa next week.
"The guys will maybe be look at trying to slow down the opposition ball at the breakdown and really making a mess of that ruck and maul," he added.
"If you stop that (their Plan A), like we have done in the past when we've beaten them, and we're physically in the game, then hopefully Scotland can do well.
"Saying stopping it and actually stopping it are two different things.
"They have big powerful runners and the lack of quality we can give them from the breakdown would be a massive plus for us."
Scotland head coach Andy Robinson was disappointed by his side's defensive display, adding that his side were not clinical enough.
"We got ourselves into good positions, we did a lot right - and then dropping off the tackles allowed them control of the scoreboard and basic control of the game," he said.
"This is what international rugby is about, and you've got to stop the opposition from scoring."