Cornish Pirates are 'evolving', says boss Ian Davies
Last updated on .From the section Rugby Union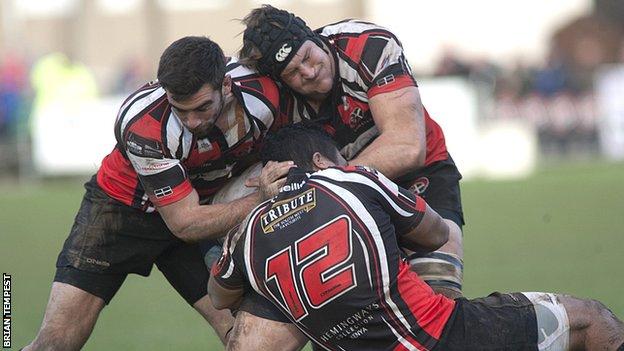 Cornish Pirates head coach Ian Davies says his side are still evolving and will not get carried away by their biggest win of the season so far.
The Pirates moved up to sixth in the Championship by
"We didn't become a bad team overnight and we've certainly not become a good team overnight," Davies said.
"We're evolving, we lost a lot of players to the Premiership and the Rabodirect over he summer, and other players to other clubs."
The Pirates have won four of their last five matches in all competitions after a spell of four games without a win.
They lost away to Bristol and London Scottish, as well as being beaten at home by runaway league leaders Newcastle, and also drew at Doncaster and Moseley in recent weeks.
However, Davies insisted he was never worried and confident their form would pick up.
"The only people who've been panicking have been the (messageboard) forums, to be perfectly honest," he told BBC Radio Cornwall.
"We went to Bristol, we've never won at Bristol. We went to Newcastle, who have a £4m budget and are basically going through the league as they want, (and) only ourselves and Bedford have stopped them getting a bonus point."
"The fact that they came into a cluster of fixtures mean that people were over-analysing what was happening.
"There were long periods last year and the year before where exactly the same was happening, we weren't winning games.
"In the four years we've been here, we've not been a week-in, week-out team.
"Everybody aspires to be, but we're not quite there yet."
Davies believes the excuse of a new group of players getting to know each other will no longer be valid if they experience another downturn.
"We're not a new team any more, this is game 14 now. We've got a new defensive system that we've brought in, and the boys are slowly but surely trying to get there," he added.