Redruth to discuss financial concerns with supporters
By Brent Pilnick
BBC South West Sport
Last updated on .From the section Rugby Union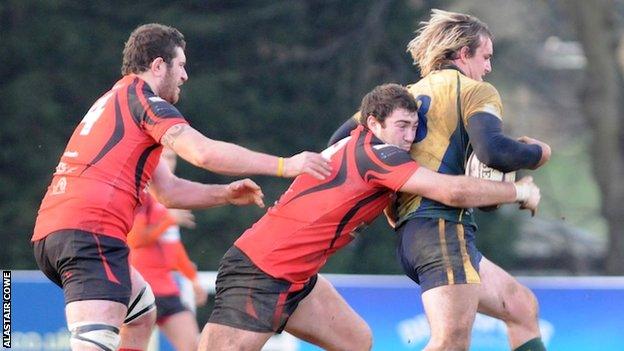 Redruth's secretary Roger Watson says there is concern that his players may not get paid unless they can find extra funds to service the club's debts.
Supporters have been invited to a meeting on Tuesday, 20 November to discuss ways to raise extra money for the club as they head into the winter.
"We're working to pay off significant debt from years gone by," Watson told BBC South West Sport.
"Servicing the debt makes our cashflow very difficult at the moment."
The Reds and finally got
Watson says since then the club's wage bill has been "significantly reduced" and the meeting is being held now to try to get new ideas for funding before they have to consider withholding any wages.
"It's that time of year with a lot of away games and the period through to December and January sees us with only two home games," he said.
"We're trying to keep ahead of the game, our main concern is that if we don't do something the players won't get paid.
"There's debts we've got to service which we are committed to and we've got to generate sufficient income to pay the players going forward."
Watson says a figure of between £30,000 and £35,000 would help ease the pressure on the National Two South club.
"It's a manageable amount and we've moved early again, as we did before," he said.
"It's our philosophy to put it into the public domain rather than operate in secret behind closed doors.
"On our accounts we operate as a profitable business, we'll make a profit of £40,000 this year but we don't have any cash to serve the debt.
"We have set a budget to make a profit again, it is literally a cashflow issue, and we do need an injection of cash to meet the commitment to our creditors and our players."