Scotland: Win not vital for World Cup, says Nick De Luca
Last updated on .From the section Rugby Union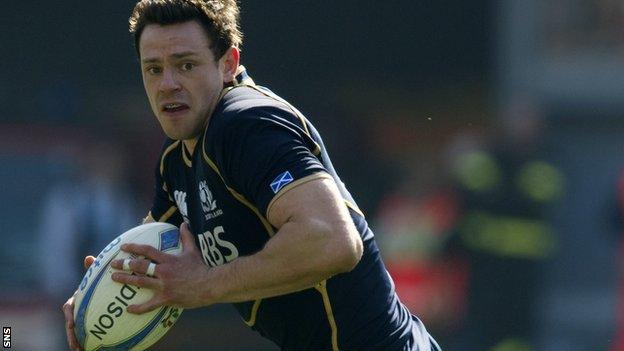 Centre Nick De Luca insists a victory over South Africa is not essential for Scotland's World Cup hopes.
They need to win, and beat Tonga a week later, to secure a second seed berth for England in three years' time.
"There's no need to win it for the World Cup. We need to win it because collectively we want to win," De Luca told BBC Scotland. "We think we're good enough to beat South Africa."
Saturday's Test will be the 22nd meeting of South Africa and Scotland since the first in 1906. The Springboks have won 16 and lost five, including the 2010 Murrayfield defeat in torrential rain.
That triumph for Scotland came a week after a stinging defeat to the All Blacks and Edinburgh's De Luca is eyeing a repeat success.
"We now need to go out there and show everybody we are good enough and it's going to take an 80-minute performance from all of us," he said.
"If we manage to get top eight for the World Cup seedings that's great, but in three years' time the top eight might not be the top eight anymore. We need to go out and concentrate on this game.
"We're looking for a win to beat this team, not necessarily for the World Cup pools.
"We want to beat everyone that's put in front of us and if you want to do well in the World Cup you'll have to beat a top seeded side.
"Obviously it makes it easier if you're one of the top seeded sides but last World Cup we were up against two better seeds [England and Argentina] and we should have won both those games so if we're in that situation again we'll back ourselves and hopefully make it come good."
De Luca will be joined in the starting XV by Edinburgh team-mate David Denton, who replaces the injured Ross Rennie.
"It's a great feeling to be back," explained the Zimbabwe-born number eight. "It was tough for me to take the fact I wasn't starting [against New Zealand] but I feel I worked hard and played well when I came on.
"South Africa are a really physical team and they play good rugby.
"It will be aggressive and I'm relishing the opportunity to test myself against the best exponents of the style I like to play.
"I'm looking to be physical, aggressive and carry the ball well."