Captain Ryan Jones says Wales are 'desperate' for win over Samoa
Last updated on .From the section Rugby Union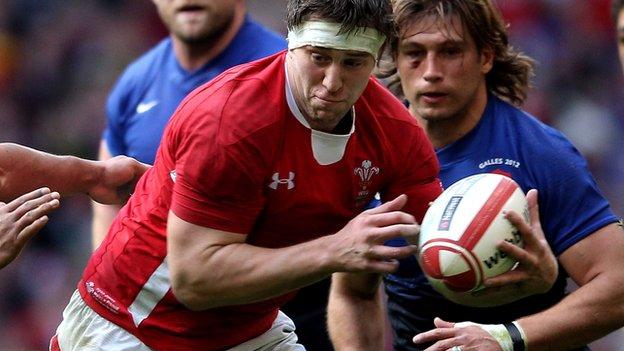 Ryan Jones says Wales are desperate to win against Samoa on Friday to make up for the poor display against Argentina.
He leads a side showing eight changes, and admits the pressure is on the Grand Slam champions.
Jones told BBC Sport Wales: "There is a desperation you know, it [a win] makes all the heartache and pain go away."
"It'll be a big relief. We need to get this show back on the road," he added.
"We very much need to get back to winning ways, but on the back of that we need to do it with a performance and that's from first kick off to the final whistle."
Wales have lost four consecutive Tests since clinching the Six Nations Grand Slam against France in Cardiff in March.
They lost all three matches in their summer series against the Wallabies in Australia, and that was followed by the defeat against Argentina.
Interim coach Rob Howley condemned the Welsh display as one-paced, and Jones says the eight changes will bring a fresh impetus to the team.
"Everybody in this team has an opportunity. It's their moment in that red jersey," he said.
"It's theirs, what they do with it now is down to them as an individual.
"More importantly, collectively we have go to approach it in the right way, we've got to do our own jobs but be part of the bigger machine. And that's what been good over recent times."
Wales have a chequered history against Samoa. The teams have met eight times with Samoa winning on three occasions.
Two those victories came in the World Cup - 16-13 in the 1991 tournament, and 38-31 in 1999.
Their last meeting came in World Cup 2011 when Wales won 17-10. Jones didn't play in that match, but has vivid memories of a bruising encounter.
"I remember watching that game from the stands... and that was incredibly physical and brutal.
"The guys came off from that sore and beat up and we know what's coming - and that's well documented," he said.
"I believe we can be just as physical, we need to work them be good around the set piece we need to challenge them and that's what we're going to do.
"That's what wearing that red jersey means, that's what it demands."
The match will be a special one for Jones as he sets a record for captaining Wales, surpassing the record of 28 he jointly holds with wing great Ieuan Evans.
"I don't think saying I'm proud does it justice," said Jones
"It really does mean the world to me and my family and friends. It's going to be a pretty special day and pretty emotional too."