Chris Robshaw wary of Australia 'backlash' against England
Last updated on .From the section Rugby Union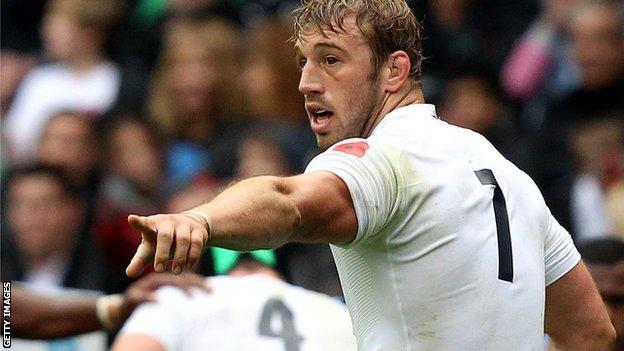 England captain Chris Robshaw warned fans to expect an Australian "backlash" as the two sides prepare to meet at Twickenham on Saturday.
But Robshaw insisted: "I'm sure they would have had a bit of a backlash in training after their defeat last week and they'll be wanting to come here and put in a big 20 minutes to start off.
"They can play from anywhere, so we have to be expect the unexpected."
England warmed up for the Cook Cup encounter with a 54-12 win against Fiji but for the first quarter of the game they were on the back foot and Robshaw is determined that they will fire from the first whistle on Saturday.
"We started pretty badly against Fiji - no disrespect to them but playing the teams over the next few weeks, we can't do that," the captain told BBC Sport.
"If we give teams likes that [Australia, South Africa, New Zealand] that much possession, that much territory, then we're going to concede numerous points I expect.
"Credit to all the boys - once we managed to get a foothold in the game [against Fiji] we managed to play some good shape and attacking rugby, and it's about making sure that we do that in the first minute this time and not wait 19 minutes to start playing."
In the past England have demolished Australia in the scrum and following their pasting up front by France at the weekend there are suggestions history could repeat itself.
However, asked if England would dominate the Australia pack, Robshaw was careful to downplay expectations.
"I don't think dominance is really the word," he insisted. "You look at the experience they have in their pack, although they do have a couple of injuries, I think they've got double or treble the caps we've got.
"That is something which you have to take into account."
England forwards coach Graham Rowntree also cautioned against expectations that England would smash the Wallabies in the scrums.
"You can't switch off against Australia, you're never quite sure what's going to turn up. But with [tight-head prop] Ben Alexander coming back into the mix, he'll bring a lot," explained Rowntree.
"I think he's a fine prop forward. He's learning, he's a loose-head playing tight-head, but he takes their cap count, just in the front row, to 140 caps - we have 38.
"We're still learning our trade as a front row."