England 14-20 Australia: Sir Clive Woodward says planning is key
Last updated on .From the section Rugby Union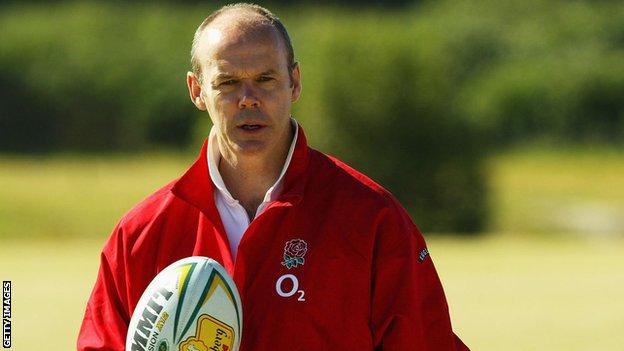 World Cup-winning coach Sir Clive Woodward says England need to plan ahead more before matches.
England rejected three kickable penalties at 20-14 down against Australia on Saturday, before eventually going down by that score.
"If you take England out of the equation, the biggest thing is to be smart ahead of the game," Woodward told 5live's Sportsweek programme.
"In the cold light of day the right decision would be to kick the goal."
First England number eight Thomas Waldrom had an effort ruled out after the side had twice kicked for the corner when they were just five metres from the line. And another attack from a kickable penalty 13 minutes from time ended with a turnover inches from the line.
Woodward, who resigned as the British Olympic Association's Director of Elite Performance in October, added: "The key thing is to think through in advance every single decision.
"If you are coaching any team, the biggest thing is trying to be smart ahead of the game.
"You have to be smart and a lot of that smartness comes from the way you train, the way you think and the players you pick.
"The key thing is getting these things in players' heads before they head out onto the pitch so you will know what will happen in every single situation. There is no point reviewing the video after you have lost, you have to review things before you go in and that is the secret to coaching.
"You must not make decisions in the heat of battle. It is a brutal business international rugby and these decisions are absolutely crucial.
"England have a week to put this right [before the game against South Africa], and I think they will have a great week and it is a big opportunity for Stuart Lancaster to make his mark and turn this around."
Speaking after Saturday's loss, England captain Chris Robshaw defended his choices by saying "hindsight is a wonderful thing".
"If Tom Waldrom gets that ball down it is a huge momentum shift," he said. "It is easy to have ifs and buts after the game.
"We will have a sulk after this game but you have to learn quickly. If we had taken those points it could have been a different result."
* The content of this story was altered on Monday evening to more accurately reflect Sir Clive Woodward's interview with Sportsweek