Wingers Gilroy and McFadden give Kidney selection poser
Last updated on .From the section Rugby Union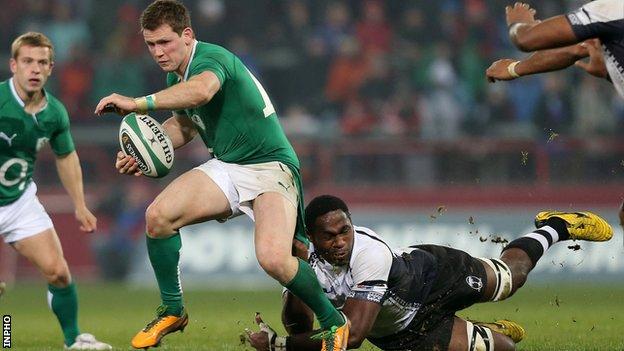 Ireland coach Declan Kidney says try-scoring wingers Craig Gilroy and Fergus McFadden have given him a selection headache for the Argentina game.
"There were a lot of young men having their first go and it would be wrong to single any one out," said Kidney.
"There was a fair bit of finishing from some of the backs."
Ulster winger Gilroy capped his first senior start for Ireland with a stunning 80-metre try late in the second half to complete his treble.
His performance has elevated him into the selection debate for a home game against an Argentina side one place ahead of Ireland in the world rankings in seventh.
Kidney said the five tries from his wingers meant regulars Tommy Bowe and Andrew Trimble would have to step up their game in preparation for Ireland's final Test match of the year.
Samoa's victory over Wales on Friday night has tightened up the world rankings and Ireland could rise as high as sixth with a win at the Aviva Stadium.
"Overall, the first half went OK," Kidney said after the eight-try win over Fiji.
"The third quarter definitely died a lot and we will have to take a good look at that because that was the section that cost us against South Africa.
"We finished strongly but the thing that pleased me most was the defence. Even though we were points ahead we defended stoically.
"It was a good team effort and the wingers, well it's their job to finish the chances when they come to them. Fair play to Craig, he took his chances when they came his way."
Gilroy announced himself on the European stage at the same ground last April, scoring a scintillating try against Munster in the Heineken Cup quarter-final.
"Any chance I get to put on the jersey and play for my country is a big step for me," said the 21-year-old.
"It is something that I have worked towards really hard and I'm glad I took my opportunity."