Roger Lewis predicts WRU deal with regions by Christmas
Last updated on .From the section Rugby Union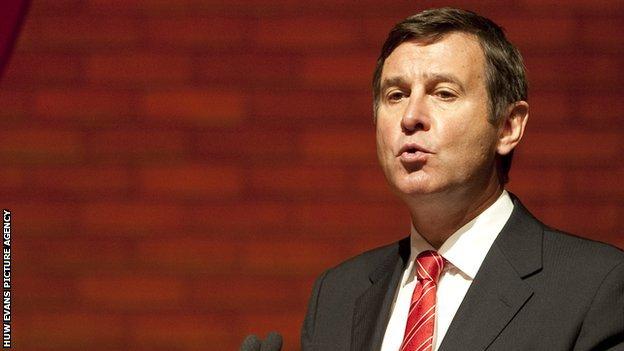 Chief executive Roger Lewis expects the Welsh Rugby Union and the nation's financially-troubled regions to sign a fresh accord before Christmas.
He says the regions' plight demands a "more central attitude" to managing the game, including which teams players and coaches join.
"I'm pretty confident that this side of Christmas, we will sign a new accord," Lewis said
Lewis made the comments during an interview on BBC Wales' Wales Report.
Cardiff Blues, the Ospreys, Scarlets and Newport Gwent Dragons have in recent seasons, particularly to French clubs.
That has led to accusations from several leading figures in the game that while the WRU is thriving financially, the regions are suffering.
Former Ospreys chief Mike Cuddy, Lewis's predecessor David Moffett and ex-main Newport backer Tony Brown expressed those views, later backed by Scrum V pundit and ex-Wales dual-code star Jonathan Davies.
However, Lewis denies the WRU has "starved" the regions of financial resources, saying: "I certainly do not agree that they've been starved of funds.
"In fact we only signed the participation agreement three years ago which gave the four regions a fantastic financial horizon.
"So that's not been the case and we've been working on a rolling five-year financial plan within the WRU which has delivered and has delivered consistently.
"And I'm confident it will continue to deliver. So we are confident we can work with the regions to ensure that they have the same thinking as well."
Lewis believes the new agreement will lead to "far greater structural relationship" between the four regions and the WRU.
He added: "We need to be more joined-up in how we approach the rugby issues.
"We're already doing it with our analysts, with our strength and conditioners, with our health and physio and fitness people.
"But we need to do it more on the coaching side as well. We need to have a shared view of who is right to coach where and when within Wales, and so that is on the table.
"We need to work far closer with our players, so which players play for which regions and when and how do we manage that with the national team?
"And then, financially, we need to get the right systems and structures in place with the right people with the right skills to make sure we maximise the opportunity in what is a very challenging set of economic circumstances."
Four of Wales' current squad - James Hook (Perpignan), Mike Phillips (Bayonne), Gethin Jenkins (Toulon) and Luke Charteris (Perpignan) - play in France while prop Paul James is at Bath.
Recently-capped Huw Bennett, Lee Byrne and Aled Brew are also on French clubs' books while prop Craig Mitchell (Exeter), number eight Andy Powell (Sale) and scrum-half Dwayne Peel (Sale) play in England.
In January 2008, the WRU approved a plan aimed at dissuading players from leaving Wales by backing the selection of home-based players.
But as the player-drain increased, that plan was eroded and Lewis says such an approach can only be implemented again if the new agreement with the regions is a success.
He added: "That is a card that can be played, but you've got to play it at the right time and now is not the time to play it because we haven't got the joined-up contractual relationship with the regions.
"But if we had that contractual relationship, if we have that sense of 'it's Team Wales', we can then say, 'if you do not play your rugby in Wales, you do not get picked for Wales'.
"And that is certainly something that New Zealand have done and Ireland have also emphasised that point as well."
He hopes players will at some point begin to resist the temptation to move to France by the WRU and regions rekindling the pride of playing in Wales.
"Somehow in France they've managed to generate millions upon millions of Euros to pay their players, and they pay them far more than anyone in Wales or England, for that matter, can afford," said the governing body boss.
"So what we've got to be able to create in Wales is a sense of 'this is something that is so important'; so important for a Welsh player to play their rugby here, that we have to make it so attractive that they will not consider that.
"How we'll do that is a sense of immense pride within Welsh rugby... but I think it's been eroded by so many conditions.
"So many things that have gone on in Wales - it's been tough.
"And for some players, they find it better to be out of the goldfish bowl of Wales than be actually trying to swim here.
"So we do need to help them on that, but then we do need to join up the pathways to ensure the the contractual relationship - and this is really getting to the hub of it now - that the contractual relationship with the regions and the union is far more joined up.
"That's going to take time because at the moment, we at the union have our contracts with our players until 2016.
"We're the only union in the world that's got that, and that's part of that five-year thinking that I put in place some five years ago.
"We've got to do that with the regions as well."