Jeremy Guscott's autumn internationals Q&A

By Jeremy Guscott
Former England and Lions centre
Last updated on .From the section Rugby Union141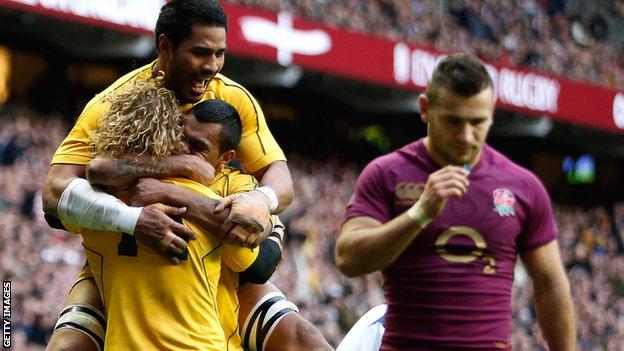 Among the topics Jerry discusses this week are:
- Wales losing once more to bogey side Samoa
- Scotland sliding to defeat at home to South Africa
- Ireland beating Fiji in a non-cap international
- Whether beating Australia and Argentina heralds a 'special' France team
Does England's loss to Australia show just how far England have yet to progress or do you think the disappointing result was more because of unfortunate mistakes and giving away needless penalties, especially in the second half? Sam500
Hi Sam, we all have to understand that England today are not the England of 2000-2003 and haven't been since then despite reaching another World Cup final in 2007. There are some exciting signs that the England team will get better with the likes of Joe Launchbury, Mako Vunipola, Manu Tuilagi, Alex Goode, Jonathan Joseph, Charlie Sharples, Ben Morgan and Courtney Lawes all good young players. With the right coaching this squad will get better despite setbacks. I would put the Australia loss down to inexperience. Yes, there were errors made by some players that they wouldn't ordinarily make, but international intensity takes some getting used to.
Hi Jerry, Can England ever win with the media? If they kick all penalties they are labled boring and uninventive, and then when they opt to run the penalties and go for the big score, they are labled naive! Isn't the running option the one that fans have been calling out for for a long time? Mr Ichallen
Hi, you make a good point, however I don't think anyone would ever stop supporting a winning team whether they played like New Zealand or like South Africa; winning is all that matters. England could silence the media by winning more but while they win some at the moment, they lose more, so everyone and their dog will have an opinion on how they could win and should win. If you win, what can people say? England had opportunities to win against Australia and the team know that better than anyone. Only they can silent their critics and that's by winning any which way they can.
Hi Jerry, After watching England struggle yet again against top-class opposition, the ruck area seems a massive problem. Is it because of a lack of aggression, lack of intensity or poor technique? It is so frustrating watching them at the rucks when they either get turned over or the ball is slowed down! Stephen Brown
Hi Stephen, yes it is frustrating given these players know how to create quick ball. They just struggle with poor technique, body angles and not enough speed and intensity. You can't always produce quick ball but that has to be your objective. If you don't play with the speed and intensity, matched by skill and technique, you will struggle to create it. Against Scotland the Kiwis sometimes only had two players clearing rucks; they are so efficient it's brilliant to watch. Once quick ball has stopped, you must work a phase or two to generate it again. You cannot play going backwards, passing bad ball after bad; it has to be kicked. Most teams will kick it back to you and you can start again.
After two weeks of the same England backline selection, it appears that Alex Goode is set to become a regular inclusion as a secondary playmaker, but without the attacking talents of players like Mike Brown, injured Ben Foden or future star Jonny May the attack seems blunted. Where can the scything edge come from if Goode remains in the team? (I see a move for him to 12 as the only real option) Graeme
Hi Graeme, Goode has done reasonably well at full-back but I wouldn't say he's played better than Foden has in his time at 15. I don't see Goode as a 12 at international level. I'm not sure if he could live with the intensity of the midfield, he's more finesse of feet and hands rather than the cut and thrust of midfield. He does posses the skills that would allow him to play anywhere in the backline but the team will benefit most from him playing 10 or 15.
Hi Jerry. Do you think it's time Lancaster bit the bullet and included Steffon Armitage? We don't have a fetcher. Davey
Hi Davey, simple answer this one…Yes.
What do you think has gone wrong with Wales, and why are they are not playing with the intensity, creativity and desire that they had in the Six Nations? They havent looked like they've had the desire at all so far this autumn. Kyle P
Hi Kyle, if there is one game that will bring Wales back and snap them out of the rugby coma they are in, it will be the visit of the All Blacks. If Wales don't play with intensity, creativity or desire they will get absolutely stuffed.
Wales played with no passion against Samoa and have lost their way. I believe that the WRU have a case to answer. Is the choice of Gatland as Lions coach the reason that Wales have fallen apart, or is it the standard of rugby in the Pro12 league? To what extent can injury or poor form be blamed or is this an issue of bad management? sirstig
Hi, without being a member of the squad, it's difficult to look from the outside and say it's because Gatland isn't involved as much. By all accounts he's still been around the squad and would have had a hand in selection, if not picked it himself. I thought Jamie Roberts gave a candid interview after the game expressing that it wasn't the fault of the coaches or the set-up and that they've had brilliant preparation! It's the players not being able to think for themselves during the game which is a big surprise.
Looking at the Welsh injury list and the way Samoa cleared out at most of the rucks on Friday, can the game sustain this brutal approach? Many of the players were 'taken out' with flying shoulders, heads and arms. There is a huge health and safety issue. If these 'tackles' were made in open play, they would mostly result in yellow cards! This was in contrast to England v Australia, where the ruck looked fast and fair! GHD
Hi, I would expect refs to look after that area of the game and if they don't, they need to be disciplined as much as a player would for doing something wrong.
Hi Jerry, After the performance by an Ireland XV, can you see the difference between the young Ulster and Leinster players and the grind-it-out Munster style the current Ireland team are playing. The youngsters didn't always get it right but when they did it was exciting and impressive against a team who are notorious for playing that style of rugby. Indiana
Hi Indiana, it is impossible to take too much from the game against Fiji because the Fijians were so poor. The Irish youngsters and ones with little experience gave a good account of themselves considering the conditions and opposition. I was impressed by Paddy Jackson, Darren Cave, Luke Marshall, Craig Gilroy and Iain Henderson. I don't think there's a lot of doubt that the Ulster players appear to have another level of confidence that should be harnessed by Ireland.
Hi Jerry, another case of vastly superior possession and territory for us Scots, but perhaps too much bluster and not enough focused effort. In your opinion, where is it we fall short each time? Is it the coaching or the players? Andy ES
Hi Andy, Scotland couldn't match South Africa's physicality and particularly the Springboks' penetration. The Opta stats showed that Scotland carried 116 times compared to South Africa's 60, Scotland ran 223m with the ball and South Africa 220! Improve the penetration and Scotland will start to see some success.
Hi Jerry, after seeing your Lions XV I was frankly horrified with the selection of no english players and a virtually all Irish/Welsh team. I mean, surely at least someone like Manu Tuilagi should be in the team following recent performances, as he seems by far and away the best centre in the northern hemisphere? rharris1999
Hi, I wouldn't disagree with you given the performances to date and he would be joined by quite a few of his team-mates!
Hi Jerry, after France's wins against Australia and Argentina, do you think that this is the beginning of something special for Philippe Saint-Andre's team or will they continue to be the enigma that they have been in the recent past? Joel
Hi Joel, you would need a crystal ball to know the answer to your question. They are playing some very good rugby and on this form will be favourites for the Six Nations.