Redruth fail to pay players as they fight to repay debts
Last updated on .From the section Rugby Union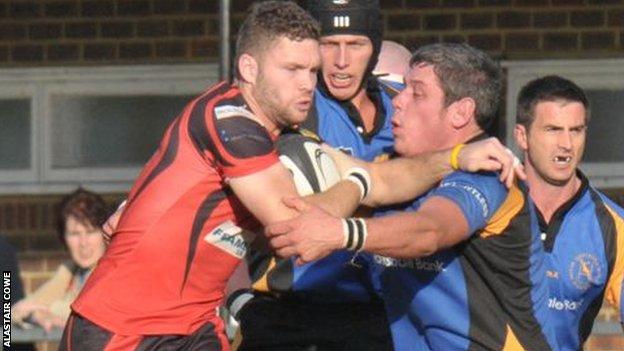 Redruth have been forced to stop paying their players as they try and get through financial problems caused by serving a £110,000 debt.
At a meeting on Tuesday, supporters were told that players could leave the club as a result of the latest financial problems to hit the Reds.
It is the that the club's players have gone unpaid due to debts.
Redruth say the debts were racked up during their time in National One.
"We will report a significant profit for the last financial year," secretary Roger Watson told BBC Radio Cornwall.
"But the debts that we're serving soak up any profit that we make and it's going to take us a while to trade our way through that.
"We have to maintain the cash flow at the club and regrettably we've had to take the decision, as a club, that we can't continue paying them at the moment."
The Reds players put their lack of pay behind them to put in an impressive performance in beating and face National South Two leaders Henley at the Rec on Saturday.
"There was some anger because it's not the first time this has happened," said director of rugby Adrian Edwards.
"But we got together as a group and said 'we've got two big games', Shelford away and Henley at home and then we've got a week's break.
"If we perform against Henley to the best of our abilities, whatever the outcome after the meetings and that week break, at least we know what we're capable of doing."
With Redruth facing such large debts, the club has considered liquidation, but say they would not be fair on their creditors who have backed them so far.
"It's not a route that we want to consider going down, we want to trade out way through it," Watson said.
"We'll be as open as we can with people, that's why we've had this meeting with people.
"We've got some tremendous supporters who I'm sure will rally around and help us through this difficult period."
Redruth's problems stem from the seven years they spent in National One and the debts they ran up playing at a national level.
"We lived beyond our means for too long and a lot of that was aspirational," Watson added.
"The travel and accommodation bills were vast and we were never able to generate sufficient income to cover our costs.
"Redruth is very much a family club and families pull together when there's trouble, and I'm sure that's what'll happen on this occasion."