All Blacks coach Steve Hansen ignores Wales' recent form
Last updated on .From the section Rugby Union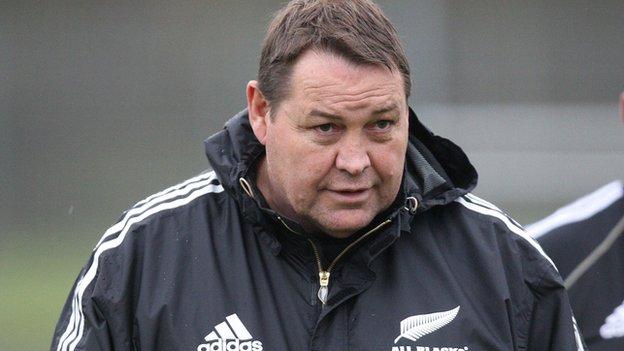 New Zealand coach Steve Hansen has dismissed Wales' run of form ahead of their clash at the Millennium Stadium.
Wales are on a five-match losing streak and suffered two shocks defeats to Argentina and Samoa in the last two weeks.
But Hansen, a former Wales coach, believes the arrival of the All Blacks will focus the minds of the home side.
"I haven't taken too much notice of their recent form, really," said Hansen before Saturday's game in Cardiff.
"They are Grand Slam winners, World Cup semi-finalists and Argentina are a very good side, and we found that out ourselves in the Rugby Championship.
"Perhaps, they have taken their eye off the ball looking at this game, but we know for sure this is the one they will be chasing and we have to be up for that."
Hansen, who has been part of the All Blacks set-up since 2004 before becoming head coach after the Rugby World Cup win in 2011, cut his teeth at Test match level during a two-year stint in charge of Wales.
He is credited with introducing a new professional approach to the Wales set-up despite seeing his side wrack up 11 consecutive Test defeats.
The New Zealander, who succeed Graham Henry with Wales and New Zealand, does not compare his young Wales side's record with the slump of the 2012 Grand Slam champions.
"It is a totally different era," said Hansen.
"This side has won three Grand Slams and they are a very good side. When I was here we were trying to rebuild. Self-belief is a big thing in any sport.
"This group may appear as if they don't have any, but they have some history which allows them to get it back quite quickly.
"I know they will be mentally getting ready and excited about this game because every team that plays the All Blacks seems to find another gear."
Hansen was Wales coach between 2002 and 2004, picking up a Six Nations wooden spoon in 2003 along the way to a record of 10 wins in 29 matches.
The All Blacks coach admits it was a tough time for him but is still proud of the foundations he laid for Wales' run of three Grand Slams in seven years.
"We instigated a lot of change whilst I was here and we were not that successful on the scoreboard for a long time," he said.
"We [competed] did that in the end and we left things better than we found it. But in doing that, I learnt a lot of things about myself and about coaching.
"I am pretty proud of what we did during that time."