Henry Pyrgos hopes to be Scotland's bright light in the north

By Jim Mason
BBC Scotland rugby reporter
Last updated on .From the section Rugby Union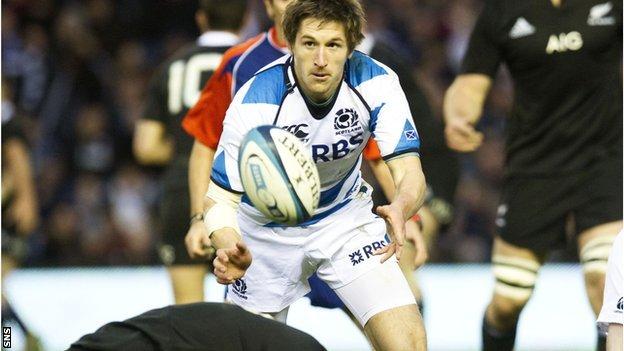 What counts as a pass mark in Scotland's 2012 autumn Test campaign?
Against Tonga at Aberdeen's Pittodrie Stadium on Saturday, they will try to make it one win from three.
There was a realism surrounding head coach Andy Robinson's team as they went into the first two matches against New Zealand and South Africa, the best two teams in the world.
That sense of realism was well founded.
Scotland huffed and puffed in both games but, in the opening match of the three Tests, the All Blacks conducted a masterclass in clinical finishing, doing the basics in exemplary fashion.
Hopes were high against the Springboks but there was a sense that the game would be decided by one factor - physicality.
South Africa may not indulge in flowing champagne rugby - they are more bulldozer than Bollinger - but why change a winning formula?
In the end Scotland were bullied in the first half, with the Springboks easing into a lead which proved to be unassailable.
The highlight for Scotland in a frustrating second half was a try by Glasgow Warriors' scrum-half Henry Pyrgos in his second game for Scotland.
Pyrgos, 23, has been rewarded with a start against Tonga and he believes the lessons learnt against the Springboks will help at the weekend.
He said: "Obviously it was amazing to score the try. It was a team effort but good to be on the end of it.
"In terms of performance, getting to the breakdown quickly was a big factor.
"The team's always looking for quick ball to put defences on the back foot and I was pleased with that element of the match.
"In terms of improvement, I think I need to direct the forwards a bit better when we are pressing on the opposition line."
That inability to break down defences when inhabiting the strike zone has cost Scotland dear in many recent games and Pyrgos believes it is all a question of accuracy.
"You're trying to play with tempo and speed but you've also got be accurate and against a team like South Africa who have a tremendous defence it's crucial," he told BBC Scotland.
"We've worked on that this week and believe we have a good idea of what's needed."
Outside Henry Pyrgos there's an unfamiliar line-up in the midfield, with Greig Laidlaw at 10, Matt Scott at inside centre and Max Evans of Castres at 13.
The scrum-half believes the trio can deliver.
"Greig is a really calm individual who never gets flustered," said Pyrgos.
"Matt's new and going really well and in the time we were both at Glasgow I know what Max can do with the ball in hand.
"I just want the chance to give those guys the ball in space."
Defeat against Tonga on Saturday would leave Scotland without a win in this autumn Test series.
The Pacific Islanders are two places below Scotland's 10th in the IRB world rankings, but Pyrgos believes Scotland can prevail.
He said: "This game is massively important. The big thing for us is putting in an 80-minute performance. We need to go out there and be really structured and do our individual jobs.
"We've got the belief we can win this game."
Tonga enjoyed one of the surprise victories of the 2011 Rugby World Cup in New Zealand. Their win over France sparked an entertaining night in Auckland city centre.
They will be big, physical and come to Aberdeen with that South Pacific love of the tackle that can put the unsuspecting into emergency ward 10.
So, will Pyrgos be hoping for some Scottish forward protection?
"It would be great not to get touched all game and get a clean ride, but that's unrealistic. It's not going to happen," he said.
"My policy is to get in, get it away and move on. They're hugely physical so there'll be a few big hits going in."