England v South Africa: The remarkable rise of Joe Launchbury

By Tom Fordyce
Chief sports writer, BBC Sport
Last updated on .From the section Rugby Union28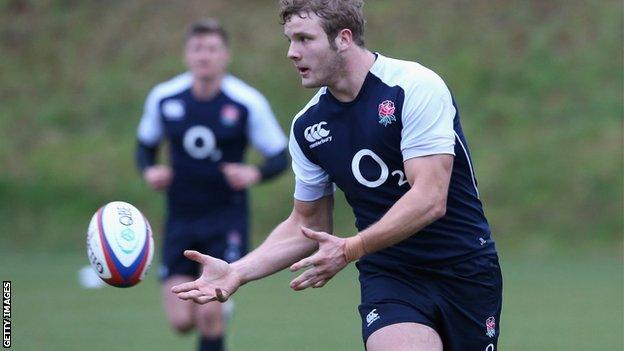 Southern hemisphere rugby is built on legends of young men grown strong for the game by shearing sheep, chopping bush and taming wilderness.
Perhaps it is fitting, therefore, that England's newest forward recruit spent formative years in that most British of teenage occupations: stacking shelves at his local supermarket.
Joe Launchbury's three-year journey from the Horsham branch of Sainsbury's to the England second row to face South Africa at Twickenham this Saturday, is one of the more startling stories of the season, and not just to his former customers on the cereal aisle.
"My mum keeps saying to me, 'Oh my God - I can't believe it!'" says the 21-year-old. "At the moment I'm so caught up in the heat of it all. You don't really have much time to think what you're doing."
Launchbury's remarkable rise is more logical than it might first appear. Useful though it might be for a wannabe lock to devote hours to plucking eggs from the top shelf or bending his back to shove palettes of frozen turkeys, there have been traditional elements to his rugby education which have contributed rather more.
At the same time the 6ft 6in teenager's weekday mornings were taken up with supermarket sweep, his weekend displays on the pitch for Worthing RFC were being noticed by former England prop Will Green and flagged up to Green's former club Wasps.
Games for their 'A' side indicated great promise, but not yet a complete engine nor physique. Which is why, at the point when Launchbury imagined he might be backpacking somewhere with his shelf-stacking savings, he was packed off to Port Elizabeth to play for Eastern Province.
"On my first day there I turned up, literally just off the plane, and they were like, 'Right, live scrums and mauls tomorrow morning at 8 o'clock'. I thought, woah, so that's how you do things over here.
"I really learned about the physicality they bring to everything they do. I went there from semi-pro rugby, so for me it was a massive step up. The physicality was huge, and it really took me by storm.
"They're very macho guys, and they like lifting heavy weights, things like that. It was a culture shock, but by the end of the six weeks I was loving it. I really didn't want to come home. Even now I do love a bit of biltong."
At 15, a gangly schoolboy, Launchbury had joined the Harlequins academy, only to be let go by director Tony Diprose. If it was a false start, it was also a premature finish.
"It was hard giving rugby the attention it needed, given that it was outside school hours," he remembers, crammed into a chair at England's training base in Surrey.
"The Harlequins academy is up there with the best. If you look at England lads from Harlequins, every single one of them has come through the academy. The second rows they had there both played England under-20s."
Quins' loss was Wasps' stop-gap salvation. Thrown into a team going backwards after his own giant leap forward in South Africa, Launchbury once again had to learn fast.
"We started off the season thinking we had a strong squad, and then lots of forwards got injured, and we were decimated. We had eight or nine guys aged under 20 starting, so we really had to play above our age, get stuck into matches and not be scared of our position.
"I had to grow up quickly. We all did. It was quite hard work at times, but looking back at it now it was a good steep learning curve. Some weeks were really hard, but we came through it strong.
"I played lots of games last year when perhaps in previous years they would have been stretched over a two or three week period. To get it all in one year was fantastic for me."
And so to South Africa once again. In making six changes to the team so disappointingly beaten by Australia last time out, England coach Stuart Lancaster is either showing commendable bravery or throwing lambs at the Springboks, depending on how battle-hardened you like your international sides.
Others might quibble at the selection of Ben Youngs ahead of Danny Care at scrum-half, or career full-back Mike Brown on the wing. But Lancaster has seen enough this autumn to believe Launchbury's precocious second-row skills are ready for their biggest test yet.
"He's a big man with physical presence, and his impact in training has been very impressive for a young man," said Lancaster on Thursday.
"We've put him in pressure situations in training games, and he's virtually error-free in his core skills."
Launchbury has one other South African experience to call upon. Picked on the basis of his Wasps form for the England under-20s team at last year's junior World Cup, he was on the winning side as England beat their Springbok equivalents 26-20.
While England lost the final 33-22 to New Zealand, Launchbury was voted his side's players' player of the tournament. He also got the upper hand, in that earlier game, over his South African opposite number Eben Etzebeth - who he will meet once again at Twickenham this weekend.
"He's six months younger than me, so he's got that over me already," he jokes, referring to the impact Etzebeth has already made on his side's northern tour.
"If I can get up to his standards that would be fantastic for me, but it's about more than a head-to-head battle between us two this weekend. It's about us coming out and stamping our game on them.
"It's a very physical game for your first full game. But I do really enjoy the physical part of the game. I believe we can match them in that area."
It is now exactly nine years since England's greatest triumph, the World Cup win over Australia in Sydney. It might seem like yesterday to many of their supporters; for the Launchbury generation, it is already ancient history.
"I was 12 years old," he says, "and it was a leave weekend from school, so I was watching it at home.
"Players like Martin Johnson and Lawrence Dallaglio were huge for me. They were big idols of mine. I saw Lawrence in the tunnel before the game last week, and he just said, 'It's well deserved, just keep doing what you're doing for your club, go out there and really enjoy it'.
"My career has been accelerated, but the culture that we've developed here, and lots of young players - there's no egos, and there are no extended groups.
"I would never have predicted that I would have been here now. But we're all in it together, and we're all working hard. We're more than ready for the challenge."