Andy Haden has no regrets over line-out 'dive' against Wales
Last updated on .From the section Welsh Rugby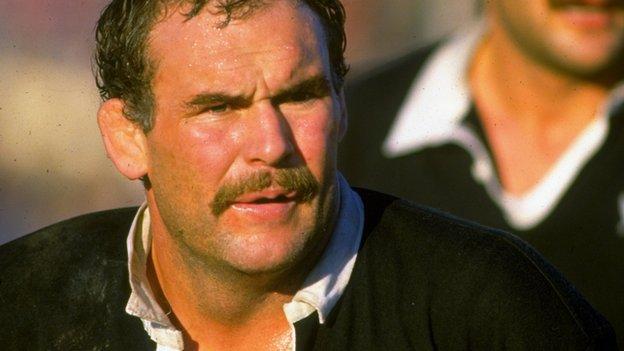 All Black legend Andy Haden says he has no regrets over his infamous "dive" from a line-out against Wales in 1978.
The incident resulted in a penalty which Brian McKechnie kicked to give New Zealand a 13-12 win in Cardiff.
"It was the only way to be able to conjure up a victory," Haden told BBC Radio Wales' Back Page programme.
"And I've lived with it and I don't regret it because that's what you do for your team - you do whatever comes into your mind at the time."
The incident still rankles with Welsh fans and players 34 years after the event, even though there is a question mark over whether Haden's dive actually resulted in the penalty.
English referee Roger Quittenton has said he penalised Welsh lock Geoff Wheel for a barge on Frank Oliver, the other All Black second-row.
However, Oliver also appeared to dive. Whatever the truth of the matter, Haden is clear that the All Blacks had a plan if they were losing the match.
"We talked about that before the match that something like this might be necessary," he said.
"And you don't talk about it, and rehearse it, think about it in your mind and not do it.
"If you've planned to do it you do it, and you don't whinge about it later on and you don't wimp out at the time if that's what's necessary.
"It was necessary. It was 10-12, time up on the clock, so it was time to get on and do the job."
The 62-year-old Haden played in 42 Test matches for New Zealand between 1977 and 1985.
He remains convinced he did the right thing.
"You don't go back to your dressing shed seat after the match is over and say 'oh, I wish I'd done this or I wish I'd done that'," he said.
"You do whatever you have to do at the time and get the job done.
"I don't really dwell on it that much these days, it's just part of the folklore of the game."
The episode ranked at number 53 in television channel TV3's list of 100 incidents that rocked New Zealand sport.
That is 48 places lower than the underarm ball bowled by Australian Trevor Chappell against New Zealand during a one-day cricket international in 1981.
Ironically, the New Zealand batsman that day was the McKechnie, who had kicked the penalty to beat Wales three years earlier.