Warren Gatland's optimism rubs off on Wales players - Howley
Last updated on .From the section Rugby Union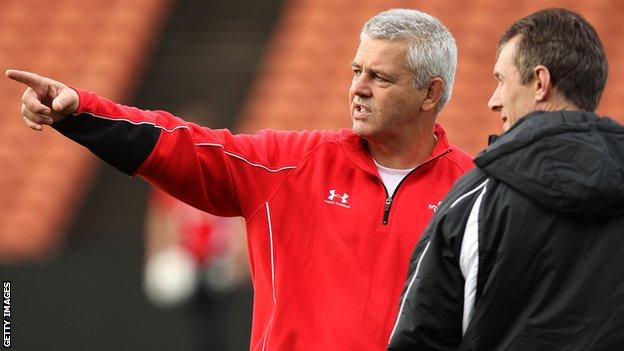 Rob Howley believes Warren Gatland's optimism will bring the best out of Wales against New Zealand on Saturday.
Assistant coach Howley has guided Wales in their past five internationals, with all of them ending in defeat.
But Gatland is back in charge against the All Blacks, and the former Wales scrum-half believes that is good news.
"Warren's greatest strength is that he is very, very optimistic, and whatever challenge is thrown in his path he believes he can win," said Howley.
"That certainly rubs off on players and coaches."
Gatland missed the first two matches of the autumn series while on duty with the British and Irish Lions.
Wales were beaten 26-12 by Argentina and 26-19 by Samoa.
Before that Gatland missed Wales' summer series against Australia after injuring himself in a fall at home in New Zealand.
"All the players and coaches have enjoyed having Warren back," said ex-Lion Howley.
"He is one of the best head coaches in world rugby, and I think any coaching team would miss a person of his calibre.
"We've been a really good coaching team over the last four or five years, and to have one of the best head coaches in world rugby back gives huge confidence to players and coaches."
Gatland will be in charge against Australia for the final match of the autumn.
He will then pass the baton back to Howley for Wales' Six Nations title defence in the New Year when he resumes Lions duties ahead of the 2013 tour of Australia.
Howley says the Welsh players have to believe in their ability when they tackle the All Blacks.
"It's about that belief and confidence and players believing that we can actually play rugby against New Zealand," said Howley, after Wales completed preparations at the Millennium Stadium.
"When you are playing against the world's best side, every minute counts. It is important to dominate territory and possession early on.
"I am sure every game is about that, but when you are playing against the world's best what you don't want to give them is an early opportunity to get up on the scoreboard.
"It is absolutely vital that we start well. We've spoken many times this week about our ability to play with the ball and put New Zealand under pressure with a passing game.
"And when you play against New Zealand you also have to ask questions with the ball in hand and throw them something outside of the box. High risk, high reward."
Wales' slump in terms of results means they are currently clinging on to a place among the world's top eight teams.
Defeat would make it six defeats on the bounce, and 24 in a row against New Zealand.