Tonga loss raises questions for Robinson

By Jim Mason
BBC Scotland rugby reporter
Last updated on .From the section Rugby Union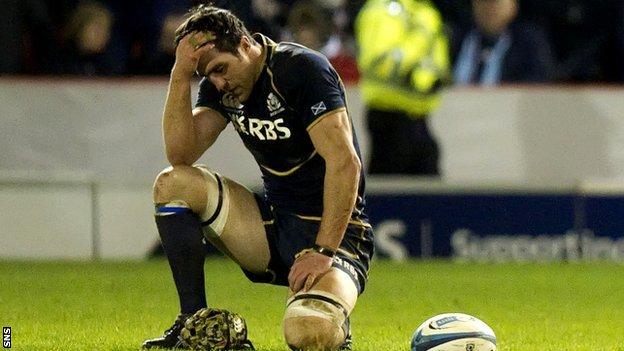 This was an abject performance by a Scotland side which lacked direction and spirit.
They were bullied into submission by a Tongan team who completely dominated the breakdown.
The signs that Scotland were to have a difficult afternoon came early as it was the visitors who settled into the game first. The Scots found it difficult to hold onto ball and this set the pattern for a torrid eighty minutes for the home side.
Tonga targeted the Scots pack, a tactic which starved the Scots of quality ball. Scotland had their chances but their lack of accuracy, a recurring fault, cost them dear - particularly at the driven maul where patience would have led to a try.
In the Scotland analysis sessions which follow this game, questions to will be asked about the decision-making on the park.
Scotland had chances to kick penalties and keep the scoreboard ticking over, but instead opted for a policy of catching and driving at the lineout. A tactic which smacked of complacency and a lack of respect to Tonga.
For former British Lion Peter Wright, this lack of attacking nous was key to the defeat.
"In the second half the Tongans dominated the game, and what was disappointing for me was that, in the second half, Scotland never created a try-scoring opportunity," he said.
"That's a real worry, that we've brought in a new attack coach, a world-class attack coach, and we look like we've taken a couple of steps back.
"It may be that we've to take a couple of steps back to go forward, and I hope that's the case when the Six Nations comes up."
In the second half, Tonga always looked the more likely side to score. Lokotui notched up the first try for the visitors before Vainikolo provided the most thrilling moment of the game with a run in from halfway.
Scotland finally seemed to get the message but despite pressing in the last ten minutes they were again let down by their accuracy.
Tom Heathcote came on for his Scotland debut at the death and it was unfortunate for the player that his knock-on was the final play of the game.
Wright, who won 21 caps for Scotland, was also left disappointed that the Scots were second-best physically against Tonga.
"We all know now rugby is pretty much a physical battle, and we all know that whoever wins that physical battle generally wins the game," he said.
"Tonga just wanted it that little bit more."
The Six Nations start in February and Scotland head coach Andy Robinson will be under severe pressure to ensure that his Scotland team perform to the best of their ability.
"There's only two months before the Six Nations," said Wright. "But that's going to be a long two months. There's going to be pressure on the Scotland players, there's going to be even more pressure on the Scotland management.
"Between now and then decisions will have to be made about who is our best team, because I'm not sure he [Robinson] knows who his best team is.
"And I suppose, he's got to think - can I take this team further? Has he taken this group of players as far as he can go?
"I'm sure these are questions that [Scottish Rugby Union] chief executive Mark Dodson will be asking.
"There's going to be a lot of hard talking done over the next couple of weeks."
A repeat of the winless 2012 Six Nations campaign would surely make Andy Robinson's position as head coach untenable.