England v South Africa: Dan Cole bemoans indecision in defeat
Last updated on .From the section Rugby Union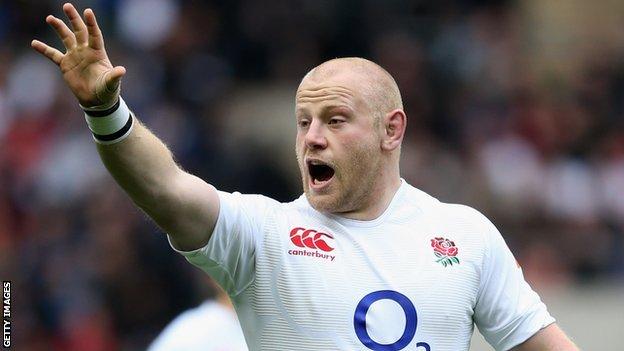 Dan Cole admits England's indecision cost them in the closing stages of their 16-15 defeat to South Africa.
Captain Chris Robshaw has been criticised for opting to kick at goal when England were trailing with just over a minute left.
Owen Farrell questioned his captain's decision before slotting the penalty, but the Springboks held on.
"You have two minutes to go and we are wasting 30 seconds deciding what to do, which isn't good," Cole said.
"Sometimes the right decision is the quick decision. We will live and learn."
as England failed to gather the restart and the captain's decision making has been called into question again after failing to kick goals the previous week's defeat to Australia.
Former England scrum-half Matt Dawson described Robshaw's call to kick at goal against South Africa as "baffling".
However, Farrell insists the team is behind the Harlequins flanker.
"We were always going to back his decision because he is the captain and makes the calls," fly-half Farrell said.
England flanker Tom Wood believes Robshaw's choice may have been influenced by the fall-out from the Australia game.
"Maybe last week played on our minds a little bit in the final stages," Wood said.
"None of us hold it against Chris for the decision. We were still in the game.
"Unfortunately we did the one thing we couldn't afford to do, which was fumble the kick-off and give the ball back to them with a minute left on the clock."
After battling back from 16-6 down in the game against South Africa on Saturday, Cole also bemoaned England's failure to make their pressure count when it mattered.
"The team laid everything on the line. We fronted up physically and in some areas we were on top but other areas of the game let us down," Cole added.
"That was some of our tactical thinking and our ability to make it count in the 'red zone'.
"You know you are not going to get many chances against South Africa in the red zone and some knock-ons and stuff stunted our possession."