Wales v Australia: Drew Mitchell expects Wales backlash
Last updated on .From the section Rugby Union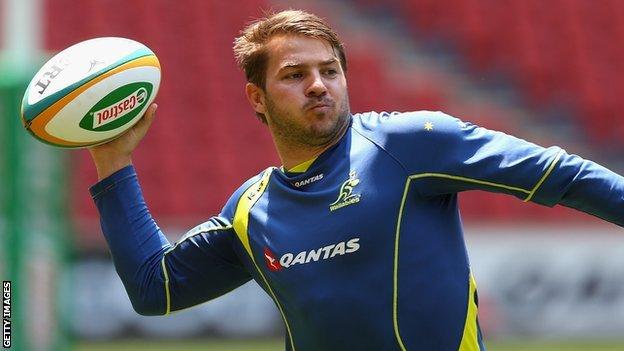 Australia are preparing to face a determined Wales team at the Millennium Stadium on Saturday says Drew Mitchell.
Wales have lost all three autumn Tests while Australia have beaten England and Italy after losing to France.
The Wallabies have won the last seven matches between the two but wing Mitchell is wary of the hosts.
"You can't afford to go in expecting anything less than the Welsh team playing to their full potential and capabilities," said Mitchell.
The form book has Australia as favourites, and the Welsh management have delayed naming their team because of injuries as they aim to end a run of six consecutive defeats.
All of which suggest the Wallabies should be confident, but not according to Mitchell.
"I wouldn't see it like that," Mitchell added.
"I know there's been times when I've been involved with the Wallabies and other teams where you've been on a trot where you haven't won so many games and you've been a bit disappointed with your performances and it can sometimes serve as a pretty good motivator.
"This is their last Test match of the autumn as well and it's our last Test match of the season, so both teams are going to be motivated going out there.
"I think if we go in and under-estimate or assume it's going to be anything less than that then we might be going home a little bit disappointed," he said.
Wales have the added incentive of having to win to maintain their place in the top eight of world rugby.
The latest International Rugby Board rankings confirmed that Wales would drop to ninth if they lose and into the third pool of seeds for the 2015 World Cup draw on 3 December.
Australia have beaten Wales four times in the past 13 months, including a three-nil whitewash in a Test series in Australia in June.
But Mitchell says that will have little bearing on Saturday's game in Cardiff.
"Although we won three-nil earlier on this year in Australia there were a number of games that came down to a kick in the last minute or a point in time in the last five minutes where it could have gone either way.
"So I think more than anything Wales will want to go out there and finish well, they know they're capable of it, they've proved it to themselves that they are capable of playing well.
"Obviously they'll be trying to recapture that form or formula, whatever it was, that was working for them so we've got to go in there and expect they've got that right, and take it to them as well."