Stuart Lancaster says England squad back Chris Robshaw
Last updated on .From the section Rugby Union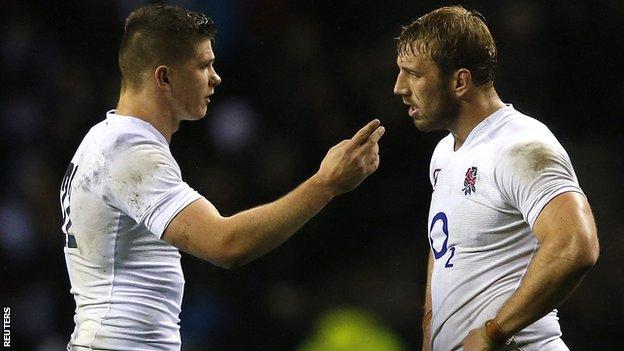 Head coach Stuart Lancaster insists the England squad is completely behind captain Chris Robshaw.
It follows last week's controversy when England turned down kickable penalties in their loss to Australia.
Lancaster said: "The most important thing is we backed the captain and the players are 100% behind him."
When Robshaw was named England captain in January ahead of the Six Nations he had only won one cap.
He subsequently led England on the summer tour before being reappointed for the autumn internationals, and during his reign England have won five and lost five.
But his decision-making has been questioned in recent weeks, with former England scrum-half Matt Dawson describing Robshaw's call to kick at goal against South Africa as "baffling".
England failed to recover the ball from the restart and lost 16-15.
However, Lancaster feels some of the criticism Robshaw has received has been "unfair".
"We're all in it together and that's the fundamental of teams," the coach told BBC Sport.
"International sport's tough and it puts pressure on you as a leader.
"Games are never won on one decision. There were lots of little decisions that put us in that position and meant we were chasing the game.
"But it was a much improved performance from us against a pretty good side."
Robshaw admitted he made the "wrong call" in the dying minutes on Saturday and former interim coach Lancaster, who was confirmed in the role full-time in March, agreed it may have been incorrect.
However, the coach said there were no guarantees England would have gone on to win the game.
"He's beating himself up over it," revealed Lancaster.
"Where we're beating ourselves up is that we didn't make the decision work for him."
England could have regained possession from the restart but replacement second row Mouritz Botha fumbled the kick.
And Lancaster said the decision about whether to kick to the corner or go for goal "wasn't black and white".
"If we'd have gone to the corner there's no guarantee we would have won the line-out," said the England boss.
"Equally, if we'd have gone for the goal there's no guarantee we would win the kick-off. And, unfortunately, that was the way it transpired.
"So we're all gutted for him to be honest because we left him in that position.
"In hindsight, the probability was we should've maybe gone for the corner but what disappoints us as a group is that we didn't make it work for Chris."