Robinson's Scotland revolution fails to materialise

By Andy Burke
BBC Scotland
Last updated on .From the section Rugby Union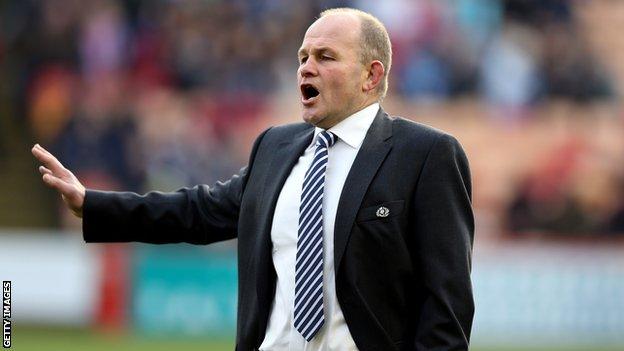 "I am confident that I can take the national team onto bigger and better things."
He inherited a side from Frank Hadden which was lacking confidence but, more worryingly, lacking in talent.
Bigger and better things?
They haven't materialised, and the squad Robinson's successor will take on is similarly bereft of confidence and creativity.
There were a few dissenting voices when the Englishman was offered the top job in Scottish rugby. After all, he had flopped when given the England job, so why would he perform any better in the Murrayfield hotseat?
But in many ways England was the impossible job, succeeding Clive Woodward whilst losing a host of players from the all-conquering 2003 side to retirement.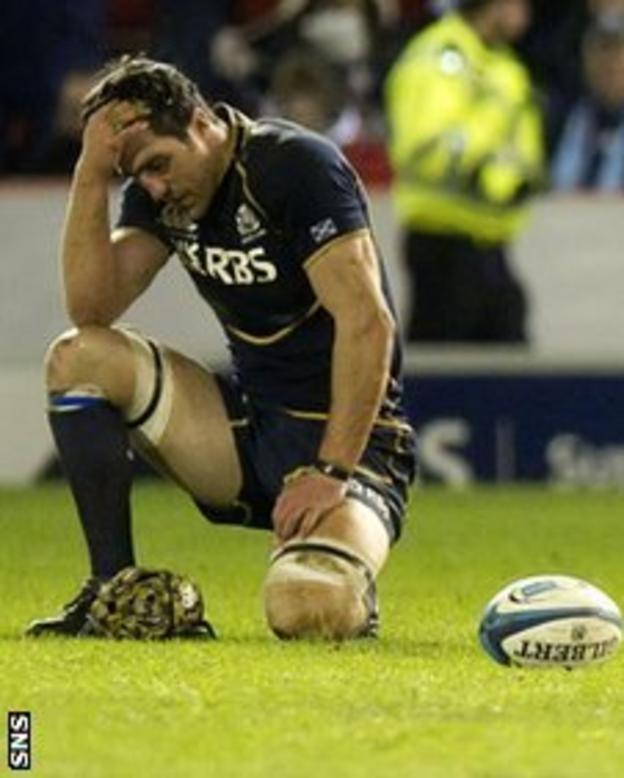 And what has never been in doubt is Robinson's talent as a coach, so the majority of Scottish fans were willing to give him a chance to restore the national team's fortunes.
"I learned a lot after losing my role with England," Robinson said. "I spent six months of reflection and went deep into my soul to rediscover my passion."
A successful stint as Edinburgh head coach brought him a second chance in the Test arena, and there was no doubting his passion to succeed.
The truth, though, is that many of the problems Robinson met on arrival are still evident on his departure - chiefly, an inability to score tries.
Getting to the root of this problem has proved beyond Robinson, as it was for Hadden and Matt Williams before him. A lack of patience and composure in the opponent's 22 is as evident now as it has ever been in the Scotland team, with the recent defeat to South Africa a case in point.
The Scots had the Springboks under pressure in the second-half, but rather than continue to keep possession until a gap opened up, the men in blue tried high-risk moves, principally chip kicks, to try (and fail) to get over the white line.
Good sides can go through 20 phases of play, wearing down the defence, before taking their chance to score. The Scots have been seen to panic after five phases, lose their composure, and invariably lose their chance.
Were it not for the trusty boot of Chris Paterson, and latterly Dan Parks and Greig Laidlaw, the national team would be in an even bleaker state.
Ahead of Scotland's ill-fated Rugby World Cup campaign, Robinson spoke of having "a crop of players who can really challenge the world's best."
The challenge didn't come, and yet it could have been so different had they been a little more clinical. England and Argentina were there for the taking, but both escaped with narrow victories to send the Scots home early.
Robinson's indecision over team selection hasn't helped. Settled combinations are key to a successful side, and yet Robinson consistently changed his half-back pairing, his centre partnership, his back three. He also changed his captain on several occasions.
One suspects that if Robinson was asked for his strongest starting 15 right now, he probably wouldn't know the answer.
However, what Robinson can't take the blame for is the lack of world-class talent at his disposal. Scotland has never boasted scores of top-level rugby players to choose from, but in years gone by there were a few gems sprinkled around the park to raise the level of those around them.
Robinson hasn't been able to call on a Gary Armstrong, a Gavin Hastings or a John Jeffrey.
Some may argue that, given the level of skill in the squad, Scotland are where they should be on the international stage. Robinson's job was to make them greater than the sum of their parts. He failed to do so.
His Six Nations record is abysmal, with just two wins from 15 matches.
Robinson's reign was not without its highs. A series win in Argentina, home victories over South Africa and Australia, and a famous away win over the Wallabies, hinted at a brighter future on the horizon.
Defeats at Murrayfield to New Zealand and South Africa this autumn were to be expected.
The shocking loss to Tonga at Pittodrie was when all hope for Robinson's regime was extinguished. He knew he could take this squad no further.
The question is, who can make Scotland a competitive force once again?