Jeremy Guscott's autumn internationals Q&A

By Jeremy Guscott
Former England and Lions centre
Last updated on .From the section Rugby Union66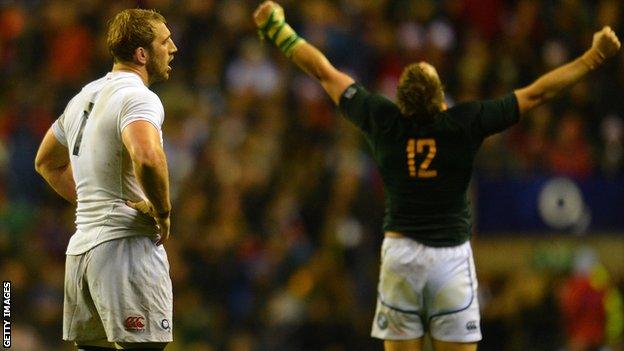 Among the topics Jerry discusses this week are:
- How England should re-jig their midfield
- Why he thinks Andy Robinson quit as Scots boss
- Whether Ireland should pension off their veteran stars
- What he makes of Welsh selection
Jerry answers questions posted on the website at the start of every week - entries are now closed for this Q&A. This week's answers appear below.
Hi Jerry, on two consecutive weeks, Chris Robshaw has made calls which have probably lost us the Test match. Not only that but it was clear that his team-mates disagreed with those calls whilst on the pitch. If pundits, supporters and team-mates alike are questioning his decision making, how realistic is it that he'll make it to the Six Nations as captain? Willis
Hi Willis, the decision not to attempt the three points against Australia was a brave one; personally I liked it because it showed he had belief in the team to score the try. In truth Thomas Waldrom should have scored, while we will never know if the penalty kick would have gone over.
Robshaw has already said he believes he made the wrong call in the Boks match and I agree - the team had nothing to lose by going for the line-out and that should have been the call.
Whatever the captain's call is you generally go with it. I don't think there's any harm in questioning it so long as it doesn't turn out to be a full blown argument. The merits of right and wrong can be discussed behind closed doors.
Jeremy - how much more time do you think Stuart Lancaster will give the current midfield pairing? Whilst Brad Barritt and Manu Tuilagi are very capable defenders they are both a bit one dimensional when going forward. Would it be worth trying a completely new combo or try to move Tuilagi to 12 and bring in someone else on the outside? Also what do you think Danny Cipriani's chances of a recall are? Mightychewster
Hi, I would play Tuilagi at 12 and Jonathan Joseph at 13 because I see that as a better-balanced pairing. Barritt is a good player but he doesn't have that flair and speed of Joseph or the X-factor of Tuilagi. Barritt is a very good defender but that isn't the reason he should be picked, every player picked at international level should be good at tackling.
Whichever combination plays against NZ on Saturday will struggle because Owen Farrell will not create any time or space for them. He will not interest or commit the All Black loose forwards to him because he is no threat as a runner.
Cipriani has very little chance of a recall until his peers accept him, or Lancaster decides he needs more of an attacking fly-half.
Hi Jerry, with Toby Flood being a doubt for the All Blacks Test, who would you put at 10? Owen Farrell doesn't seem to have any creativity on the ball and I believe that NZ will tear England apart. How about Freddie Burns or even Cipriani? So we can actually play with some freedom unlike how we did against SA. Jhlee1989
Hi, I don't mean for this to sound condescending, I believe it's just where England are at the moment, but if England had a better team I would start with Burns without any hesitation. But they don't, so I wouldn't.
Burns, like any new cap, would be best introduced to international level surrounded by good, experienced players in a winning team. They would look after him, relieving him of any pressure.
When Burns plays for this England team the burden of expectation will be huge and if he doesn't make England click in his first game, the media will be writing him off immediately. There is no doubt that Burns has talent, he's running the show at Gloucester and doing it well.
When England pick him they should listen to him and ask him how he wants to play it, rather than the other way round. If I didn't think the media would rip into Burns I would start him but I think they would, so I would start with Farrell and then introduce Burns at some stage during the game. Cipriani is a way off yet from getting himself back into international contention.
Hi Jeremy, with Andy Robinson resigning is this a good thing for Scottish rugby or not? I can't see how it's his fault Scotland are so inconsistent. Who do you think will replace him? rugbymad77
Hi, it feels like Andy Robinson took responsibility for Scotland's performances and decided he can't deal with the team's incompetence anymore. There must come a time in every coach's career when they believe they can't help the players anymore because the players aren't good enough, or they just don't respect the coach enough to listen, believe and deliver.
I think AR's win/loss ratio was 50% with Scotland. While the Six Nations results didn't go his way, some of those matches were very close. The loss to Tonga, especially the manner in which they lost, must have made Robbo feel so sick he felt there was nothing more he personally could do for this current crop of Scottish players.
Another reason might be that the Scottish squad thought he was a bad coach and didn't believe in him, but that didn't seem to be the case. As for the next coach I would go for Sean Lineen, he has coached a number of the current squad and would have seen the rest very close up.
AR hasn't moved Scotland any further ahead in terms of the world rankings, in fact they've gone backwards, but he might have left structures and ideas behind the scenes that might be useful and will continue to be used in the future.
Jerry, following the assault by Andrew Hore on Bradley Davies in the Wales v All Blacks match, when will the fourth official be able to notify the officials on the pitch? This was a far more serious incident than a knock-on or forward pass. Nathan
Hi Nathan, I'm not sure but the sooner the better. You can already picture the defence when Hore goes in front of the disciplinary team with his QC… 'I thought Mr Davies was getting the ball and I mistimed my tackle'. I don't think that will wash!!
Hi Jerry, Ireland have been showing real promise from their youngsters whilst the more experienced vets have been out of action. Would you suggest it is time for the likes of Brian O'Driscoll, Paul O'Connell, etc to step aside and let the new guys build up to the World Cup in 2015? Samuel
Hi Samuel, I don't think the experienced guys you mention are quite ready to give up their places just yet. It was good to see Craig Gilroy come into the team and play without any feeling of pressure - he looked like a kid fresh out of school with nothing to lose.
I think it helped the rest to remember how they like to play. With the likes of Simon Zebo alongside the willingness to attack appeared much stronger than usual.
Hi Jeremy, can you back up the Welsh management's decision to pick players who aren't performing on the international stage, for example Rhys Priestland? Also, if the regions are underperforming, then why pick players from those regions instead of players who are performing over in France like James Hook and Lee Byrne? Carl Mogs
Hi Carl, the Welsh management see their players up close every day during the international period and can analyse their performances, they know what shape they are in physically and mentally. We don't get to see these players close up, we judge them on 80 minutes of the game.
Personally I would go with Hook at 10, he's been playing 10 all season and should be given an opportunity to start. The overseas issue is an area I don't agree with because it shouldn't matter where in the northern hemisphere your players play - as long as they are good enough and in form they should be in with an equal chance.
Jerry, why do you think Ireland are so erratic under Declan Kidney? Do you think, considering their dominance of the Heineken Cup over the past seven years, they ought to be more consistently successful in the international arena? And that given the players at their disposal, and some of the rugby they can play, that the coaching staff are not achieving enough consistency in performance? Barry Ireland
Hi Barry, I can never really get my head around how well the likes of Munster, Leinster and Ulster do in Europe and how as a national team those same players can't get it together in the same way.
There must be some serious disagreements within the minds of those players about how they should play for Ireland. I don't blame it all on Kidney, he's coached a team to Heineken Cup and Grand Slam success, so he knows what it takes to win.
I don't think he's brought the youngsters into the squad soon enough but now after Gilroy's impact he might change.