Wales v Australia: Five reasons why Wales must win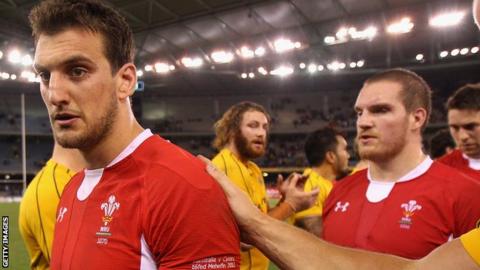 WALES V AUSTRALIA
Venue:

Millennium Stadium, Cardiff

Date:

Saturday, 1 December

Kick-off:

14:30 GMT

Coverage:

Live on BBC One/HD and Online from 1400-1630, commentary on Radio Wales, text commentary on BBC Sport website & mobiles
Scrum-half Mike Phillips this week described Welsh rugby as "crazy - like Eastenders".
In 2012 the players must feel they are starring in a soap opera like no other year.
From the high of a Six Nations Grand Slam to the low of six successive Test defeats, the last 10 months have vividly illustrated the 'boom and bust' nature of the Welsh game.
"It must be quite entertaining," said Phillips. "But as a player you feel the lows. Nobody wants to win, or cares more, than the players. We are working hard and I am sure there will be some big wins around the corner."
There needs to be. The current script is feeling a little worn. Saturday's final autumn Test against Australia has taken on far greater importance, for all manner of reasons…
Losing is a hard habit to break
Since clinching the Grand Slam with victory over France, Wales have lost six Tests in a row. That is their worst sequence since 10 straight defeats from November 2002 to August 2003.
The first three of the current run came on their summer tour to Australia, extending their winless run against the Wallabies to seven matches since 2008.
It wasn't so much the fact they lost to the second-best side in the world, in their backyard, but the manner of the defeats.
In the first Test in Brisbane, having struggled to cope with the pace initially, they recovered from 20-6 down to 20-19, but couldn't complete the comeback and lost 27-19.
A week later Wales led by a point going into injury-time before Mike Harris's last-gasp penalty cruelly denied them victory, going down 25-23 in Melboune.
Could it get any worse? You bet. Seven days on in Sydney, that sinking feeling re-emerged as Wales led 19-17 with 10 minutes left, but again contrived to lose when within sight of a win.
This autumn's losses have not reached the same levels of angst, simply because Wales were so poor against Argentina and Samoa that defeat appeared inevitable.
Last week they were 33-0 down to the All Blacks before belatedly displaying the form of the spring, but by then it was far too late to make a difference to the outcome.
It's a mind game
Three short weeks ago, captain Sam Warburton was positive that Wales' inability to beat any of the old Tri-Nations countries over the past four years would not affect their chances this time.
"We don't want any of those doubts creeping in the longer it takes, but I don't think they will," he said. "There is an inner confidence in the squad and the players are as fed up as I am sure the public and media are, waiting for this scalp. Hopefully we can get that win sooner rather than later."
The wait goes on, the monkey clinging ever more stubbornly to Welsh backs. Coming so soon after the one-point losses to South Africa (17-16) and France (9-8) in last year's World Cup, those three near-misses in Australia did nothing to dispel the impression that Wales have a substantial mental barrier to clear when they confront the world's leading nations.
The period they have endured since the Grand Slam has parallels with their last Championship clean sweep in 2008. After that triumph, they lost four of their next five Tests - a two-Test series in South Africa and again to the Springboks and All Blacks in Cardiff - before finishing their autumn campaign by beating the Wallabies 21-18.
How they could do with a similarly rousing boost on Saturday.
Rankings ramifications
If there wasn't enough pressure on Welsh shoulders already, then pondering this scenario will hardly help lift the burden.
Lose again to the Wallabies and in three years' time Wales could be in a World Cup pool with New Zealand and England. Or perhaps worse from a Welsh perspective, New Zealand and Samoa.
After starting the autumn with hopes of breaking into the world's top four, Wales end it knowing that defeat will see them drop out of the top eight and into the third band of seeds when the 2015 World Cup draw is made on Monday.
If that would come as a further blow to self-esteem, and make success in the tournament a more distant prospect, in reality this autumn's results have shown the margins between the teams ranked from two to 12 are narrowing all the time.
Wales know from last year's World Cup campaign, when they faced South Africa and Samoa, that at least two tough pool games await, whether they are in the second or third group of seeds.
Should they beat the Wallabies and end the year ranked fifth or sixth, one of Argentina, Italy, Tonga or Scotland would lie in wait, as well as one of the top four. No easy pickings there.
Losing the faith?
You had to look closely, but it was possible to glance around the Millennium Stadium last Saturday and note some empty seats.
The official attendance was 72,372 - only a couple of thousand short of capacity - but it was perhaps a sign that even when the world champion All Blacks are in town, there is a ceiling to Welsh support.
The stadium was only two-thirds full for the visit of Argentina (51,422), while there were 30,000 empty seats for the Friday night visit of Samoa (44,329).
Understandable, you might say, given the fiscal challenge of four Tests in as many weeks, the price of tickets amid an ongoing recession and the drop-off in form.
While autumn Tests are not always as strongly supported as the Six Nations, with its rich social and tribal traditions, there are still tickets remaining for Saturday's match with Australia.
With only two home games in next year's Six Nations, against Ireland and England, the Millennium will no doubt be rammed to the rafters again.
But a union currently aiming to broker a financial deal to bolster its four struggling regions will not relish a prolonged dip in the national team's fortunes.
Lions baggage
Probably not of immediate concern to Welsh supporters, but as they traditionally form the largest contingent of travelling fans on the British and Irish collective's four-yearly jaunts, and Wales (though perhaps not if their current woes continue) are likely to supply a decent chunk of players to the squad, head coach Warren Gatland would recognise the extra value in beating these Wallabies.
"It's important the home unions send a message back with Australia that come the summer, they are in for a game," the Lions coach said this week as he surveyed an autumn where until now only Ireland, against a weary Argentina, have beaten one of the Rugby Championship sides.
Saturday is the Wallabies' last Test before the Lions series. After beating England at Twickenham, keeping the Welsh down at heel would further bolster confidence for those encounters after a challenging, injury-blighted year.
While the home nations' players will have the Six Nations and Heineken Cup to make their own selection statements in the new year, this is the last chance for any psychological gains, however small, over the Lions' opponents.
Sam Warburton, the bookies' favourite to captain the tourists, has played 10 Tests against the big three of Australia (six), New Zealand (two) and South Africa (two). He has yet to come out on the winning side. What impact might that have if he does get the nod to lead the Lions?
This Saturday, the refrain is not so much 'Play it again, Sam', but 'Play it differently'. And win.