Rhys Priestland backed by Mark Jones to handle Wales 'pressure'
Last updated on .From the section Rugby Union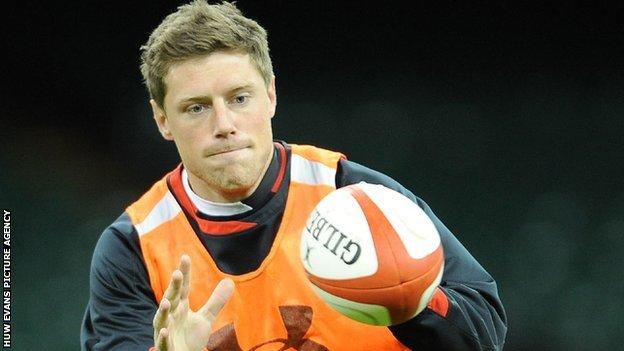 Wales fly-half Rhys Priestland will overcome his loss of confidence and shine again for Wales, according to his Scarlets attack coach Mark Jones.
Priestland's loss of form has coincided with Wales' run of six successive defeats, their worst for 10 years.
Jones admits concern over Priestland's state of mind, but believes the 25-year-old can handle the pressure.
"I've no doubt Rhys will bounce back, and it wouldn't surprise me if he was on good form at the weekend," he said.
Priestland this week admitted turning to a psychologist to help him deal with a dip in form and media criticism.
He was a pivotal player as Wales reached last year's World Cup semi-final, and started every game as they won the 2012 Six Nations Grand Slam.
A loss against Australia on Saturday in the last of the autumn Tests would also mean Wales losing their place in the top eight of world rugby's rankings.
Jones, a former Wales wing, said he is worried that Priestland is feeling the mental strain, but backed the player's decision to speak openly about the issue.
"It is a concern, I think, when any player feels that they are struggling mentally," said Jones.
"But it's nothing that any player doesn't feel at any stage of their career - I've been there myself.
"Some players choose not to tell anybody about, they keep it all inside. And other players are happy to share their feelings.
"Obviously Rhys has decided just to share a little bit of the stresses and strains he's under at the moment.
"I certainly wouldn't go into the media and say it, but every individual is different.
"I think the most important thing is how the individual actually deals with it in the playing and the training environment, and as long as that's positive I don't think it matters how you deal with it."
Jones, who played 47 times for Wales, believes that part of the problem for Priestland is the scrutiny applied to fly-halves in Wales.
"He plays in a position where criticism is free-flowing, as is praise when you're playing well," added Jones.
"Rhys understands when he's playing well he accepts the plaudits and understands that maybe when he can do things a little bit better he can accept a little bit of flak.
"You move into that jersey [No 10] and you're taking on the mantle so, with that comes the pressure.
"I'm sure with Rhys's scenario he'll have looked at Stephen [Jones] when he was in that position and the other fly-halves who have gone before and how they dealt with it, and he's using his own technique now on how to reduce some of that pressure."