Bradley Davies "suffers memory loss" after Andrew Hore strike
Last updated on .From the section Rugby Union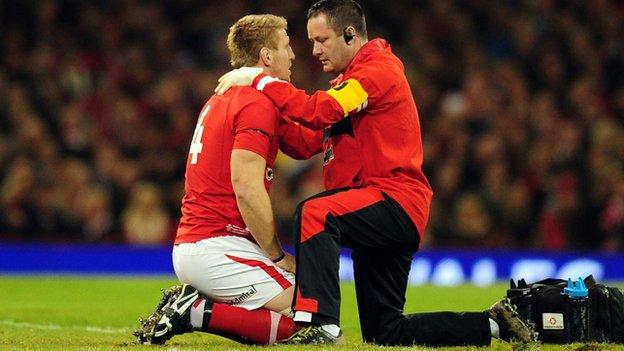 Warren Gatland claims Wales have moved on from Andrew Hore's strike on Bradley Davies during the defeat to New Zealand.
The Wales second row Davies was admitted to hospital and has revealed he has suffered memory loss.
"He has got five weeks and Bradley has got four weeks," said Gatland.
"As far as I am concerned that is last week and am focused on this week."
Wales face Australia in the final game of their autumn campaign at the Millennium Stadium still looking for their first victory after defeats to Argentina, Samoa and New Zealand.
Hore was banned for five weeks at a disciplinary hearing in Bristol on Wednesday after Scottish official, Professor Lorne Crerar was persuaded Hore had not intended to strike Davies in the head.
His punishment will mean the hooker will only miss two competitive games, with three Super 15 pre-season friendlies taken into account during his suspension.
The initial ban was reduced from eight weeks because of Hore's good character, guilty plea and his remorse towards Davies.
The Wales lock admitted he cannot remember anything from the two days before the clash with the All Blacks, let alone the incident or the game.
The Blues second row was taken to hospital with serious concussion following the off-the-ball incident just 30 seconds into the All Blacks' 33-10 win at the Millennium Stadium.
"My first reaction when I saw it on the television replays afterwards was 'Oh, that is what has happened," Davies told Walesonline.
"I felt very groggy for a while afterwards. My last memory before the game was last Wednesday and my mind has pretty much gone blank since then.
"I was in college doing a plumbing course and I cut my finger with a hacksaw. That was the last thing I can remember.
"I was actually only out cold for a couple of seconds on Saturday, but when I came to, I had lost all my short-term memory."
Davies revealed Hore had phoned and text him to apologise for the incident and he claims he holds no grudges over the incident.
Davies admitted he was concerned for his family and heavily-pregnant girlfriend who had to watch him lying unconscious on the Millennium Stadium turf.
The 25-year-old will miss Saturday's showdown with Australia and is in doubt for the Blues' Heineken Cup double-header against Montpellier.