England v New Zealand: Jeremy Guscott on final autumn Test

By Jeremy Guscott
Rugby union analyst, BBC Sport
Last updated on .From the section Rugby Union356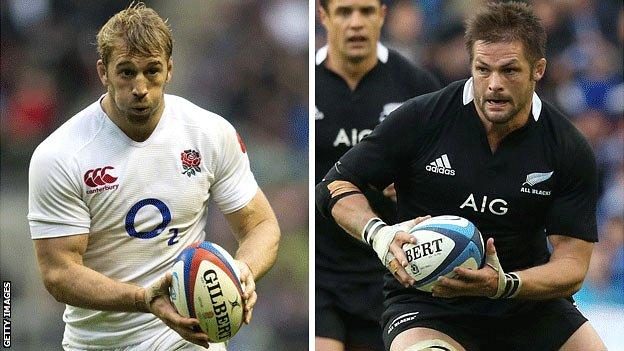 Two matches against the big three, two defeats so far, and here come the world champions to finish things off.
They go into Saturday's meeting at Twickenham unbeaten in their last 20 Tests overall and have won nine in a row against England.
How can England take on the world champions?
England are playing with a good tempo and they have to continue like that against the All Blacks, but they need to get more accuracy and precision into their attacking game.
Cough the ball up against New Zealand, especially in your own half and from turnovers, and they will rip you to shreds.
But you have to take the game to them and not stand off and let them dictate the pace and tempo of the game.
If you do that they will keep applying pressure until cracks start to appear, and when they finally break you open it's all over.
What do you make of the England selection?
By picking Saracens number 10 Owen Farrell at fly-half in place of the injured Toby Flood as his only change, head coach Stuart Lancaster has gone for what he knows and I pretty much agree with him.
To throw debutant Freddie Burns in from the start could be dangerous because it could go brilliantly but it could also go badly, and against the best team in the world it would be bit unfair to give him a test like that.
Farrell, who has been nominated for the International Rugby Board Player of the Year award, knows his own mind. He's not the greatest runner but he knows his limitations, he distributes well and he's nerveless when it comes to kicking at goal.
He's only 21 and his game management isn't where it's going to be as he matures; he needs a bit more of an education at 10 but once he's got that I think he'll become a good player.
There were positive signs last weekend
England's physicality was impressive last Saturday; they won the battle of the breakdown against South Africa and had the majority of both territory and possession.
They carried 119 times compared to the Springboks' 68 and made 433m compared to 169m by South Africa - looking at the stats it's a surprise England lost.
But their lack of accuracy proved crucial. England were not great in the line-out, losing five of their throws, and they also turned the ball over 16 times and dropped it eight times.
You can't do against the best teams in the world and expect to win. Repeat that against the All Blacks and they will be in big trouble.
England have to use their heads
England have to be careful how many players they commit to the breakdown on Saturday because when New Zealand defend outside their 22 they don't commit many players, unless they see the opportunity for a turnover.
They wait for one of the opposition to attack in isolation and then they pounce.
Because New Zealand don't commit many to the breakdown they have numbers when the opposition lose possession and their counter-attacks are devastating.
No doubt about the key battle
England captain Chris Robshaw has the biggest task of all because competing with All Blacks skipper Richie McCaw has been difficult for any player over the past 10 years - Robshaw will have to run himself into the ground in order to have an impact.
It's all very well England boss Lancaster talking about the tackles Robshaw has made but the flanker needs effective stats.
Metres run with the ball, turnovers won, those are the kind of stats I would like to see.
Hooker Tom Youngs also needs to play well in the line-out; he can't afford to have a success rate of 64% like he did against the Boks - for this game that rate has to be up in the 90s.
The All Blacks are a precision-tooled machine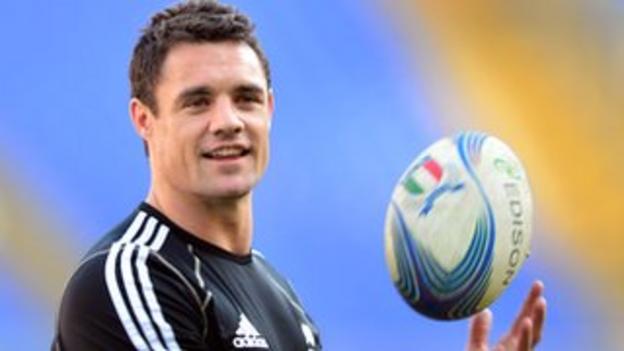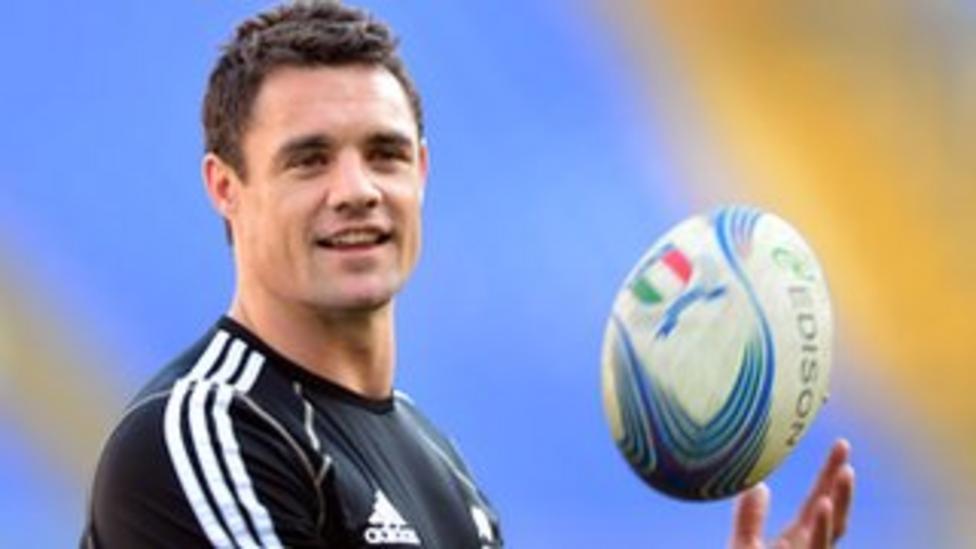 McCaw is arguably the best player ever to play rugby union, his performances are always excellent.
But individually all the New Zealand players have a high level of skill and technical ability, and as a team they are all tuned into one heartbeat.
They are the best team in the world at executing the basics of the game with high levels of precision and if they make a mistake, they soon put it behind them.
Star fly-half Dan Carter threw an interception pass against the Scots but then flipped the switch and proceeded to rip them to shreds with his breaks.
What does history tell us?
England have a win-loss ratio against New Zealand of 19% since the first meeting back in 1905 and have lost the past nine Tests - including the last five at Twickenham - between the two.
Their last win came in Wellington back in 2003, and England's losing streak is their longest ever against the All Blacks.
The All Blacks go into the game having scored 14 tries so far on this autumn tour. England have scored eight - and seven of those came in the win against Fiji.
On the wing Julian Savea has scored 10 tries in eight matches and has never lost with the All Blacks. England counterpart Chris Ashton hasn't scored for 11 games.
Are England doomed to defeat?
Everyone has to understand where England are at the moment. It's very easy to be critical, it's harder to look at good points and positives.
Too many people are saying 'look, this side should start winning now'.
It is what it is, it's not the best team in the world - they're ranked fifth, so people should bear that in mind.
And on Saturday they're playing the best team in the world by some margin.
So who's going to win?
New Zealand will win - it just depends how well England play as to how many they lose by. I hope it's not too many.
I'll stick my neck out and say the All Blacks will win by about 10.