Redruth supporters help to pay players during cash crisis
Last updated on .From the section Rugby Union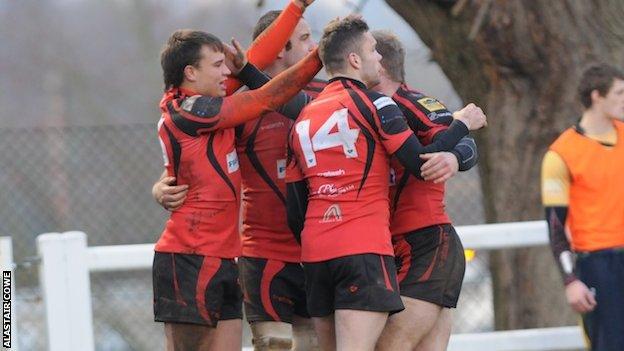 Redruth supporters are helping to pay the club's players as the National Two South side continue to fight financial problems caused by a £110,000 debt.
"There's a group of supporters digging deep and setting up standing orders so that payments can be made to players," said Redruth secretary Roger Watson.
"It will help with their expenses so they don't lose out playing for us."
With payers being unpaid they are allowed to talk with other clubs about a move away from the Rec.
But with the club flying high in National Two South and beating leaders Henley last weekend, he thinks most of the squad will stay together.
"One or two players are looking at offers form elsewhere," Watson told BBC Radio Cornwall.
"As soon as we stop paying them we've broken our side of the deal on their contracts so we couldn't hold them here if they wished to go.
"But the vast majority of players are saying they're going to stay together as a group and stay tight.
"We saw their reaction on Saturday and it was probably one of the club's best performances in a long time, they take great pride in playing for Redruth and it's history."