England v New Zealand: Why are All Blacks so dominant?

By Tom Fordyce
Chief sports writer
Last updated on .From the section Rugby Union328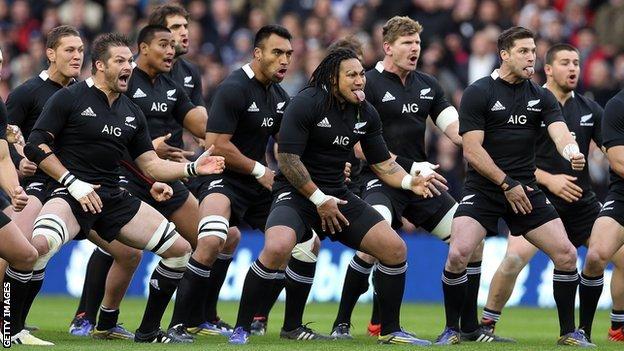 They are statistics to frighten even the most one-eyed and optimistic of England supporters.
Going into Saturday's clash at Twickenham, New Zealand - world champions a year ago - are unbeaten in 20 Tests, haven't lost a match on their autumn tours of the northern hemisphere since 2002 and maintain a winning percentage through their storied history of a staggering 77.5%.
Intimidated? In the last decade that last number goes up to 86.5%, thanks to 112 Test wins and 4,649 points; in the same time period, England have won just 55.3% of their games and scored 1700 fewer points.
Most successful teams rise, peak and then fall away, just as England's World Cup winners of 2003 did, or the Springbok team that succeeded them four years later. So how have the All Blacks managed to not just maintain their dominance but actually extend it?
Team ethos
In their crushing victories over Scotland, Italy and Wales this month, Steve Hansen's side have seldom been matched and never been seriously tested, despite arguably having little more to prove.
That relentless ambition is something that Hansen - assistant coach to Graham Henry for seven years before stepping up - admits he is quietly proud of.
"We have set ourselves some pretty staunch objectives as a group, and that has excited the senior players," he told the BBC this week.
"When you've got excitement and talent, and can also have fun as a group, then those three things in the right balance give that talent the opportunity to express itself.
"What I like about this team is they want to play rugby and they work hard at what they do. They are very good at staying humble, happy to mingle with the fans, and are always great with people."
Those who witnessed what Andrew Hore did to Bradley Davies last week - or Adam Thomson to Alasdair Strokosch at the start of the month - may take umbrage at some of that. But Hansen, aware of how great champions can struggle for fresh motivation, is forcing his players to reach higher.
"Our culture in this group is great, and I am very proud of them and what we do. They try to get better every time they play. And they had better, because if they don't they will be past history.
"That is our goal, and if you have a goal like that, you have a chance."
Playing and coaching resources
For most international sides, the year after a World Cup is a time of renewal and fresh faces. England's starting XV on Saturday will, for example, have a total of 206 caps between them.
The All Blacks? 788.
In Richie McCaw, Dan Carter, Tony Woodcock and Keven Mealamu, Hansen has four of the most experienced players in world rugby. England's most capped player on Saturday will be Dan Cole, with less than a third of McCaw's appearances. This is less a revolution than a smooth succession.
"One of the big things that has helped is the continuity of the group," says Hansen. "Those of us in our roles have understood what has worked in the past and what hasn't - we haven't chucked everything out and started anew.
"The new things we have brought in have worked reasonably well, and we've brought in a group of nine or 10 young guys who have all performed really well for us. They have brought enthusiasm and excitement and energy into the group.
"We're very fortunate that we have a very good development programme being run by the NZRFU through the franchises, and our high performance department is doing a wonderful job bringing through these young guys. It's amazing how they just come in and fit right in.
"The young guys have challenged the older ones, because they've done really well. There's a competitive spirit in the group because no-one is guaranteed their position. Sam Cane has played four Tests now and been top draw, so he's letting Richie McCaw know that he better keep doing what he's doing."
In turn, those older players are driving on the new boys. As Colin Meads, perhaps the greatest All Blacks leader of all time, told the BBC last week: "Keeping the team up all the time is always quite a challenge. But that is where guys like Richie McCaw and Dan Carter come in.
"McCaw has grown into a great captain. He is a great leader and a big part of the motivation that keeps the thing going."
Back home
That conveyor belt of talent into the senior set-up is no accident, as I discovered while in New Zealand during last autumn's World Cup. Rugby grabs Kiwi kids young; once it has a hold, it's not allowed to let go.
"Everything we do is about four key skills: catch, pass, run and evade," I was told by Buck Anderson, former All Black, rugby teacher and coach, and now head of the New Zealand Rugby Football Union's community programmes.
Between the ages of five and seven, kids' rugby involves no set pieces, tackling or kicking. Defence skills are introduced aged eight - "We teach them to watch the hips, not the ball or the feet"; the pitch is small and the ball is no bigger than a size three.
Only from 11 do kids take part in 15-a-side games. Even then, penalties result in possession being handed over, rather than kicks at goal.
Then there are the cultural stimuli. Thanks to the successes of the 1905 touring party to Great Britain, rugby became a key part of how New Zealand defined itself against the outside world. In the century that followed, a predominantly masculine society took this most physical of sports to its heart; in small communities, the rugby club served as the unofficial community centre.
As Kiwi society has developed, the speed and power of Polynesian islanders has been added to the already potent mix of Maori and European. There is also every opportunity for the game to be played; remarkable though it may seem to British eyes, every single primary school in the country has a playing field.
Playing style
And so to the nitty-gritty. Why has this team in particular risen to such heights?
There appears a speed and precision about the All Blacks of 2012 that leaves northern hemisphere teams ponderous in comparison.
There were periods last week when Wales fought hard, and found some success: they beat defenders 23 times to New Zealand's 19, and made more metres with ball in hand. Despite that, a long-awaited victory was never a serious possibility.
"It is so difficult to play against them because their decision-making is a lot better than anyone else," says former Wales fly-half and now BBC pundit Jonathan Davies.
"When to commit, when not to commit at the tackle area. If they can't win it, they all stand out.
"The depth which they put on the ball, their passing - the way they put the ball through the hands to move defences around - and their running off the ball is remarkable. It makes it so much easier when you are carrying the ball for the All Blacks because you have always got players running off you.
"The first two receivers will not just take the ball in, they will move the defence around with one or two passes, and if they have to hit it up, they have options either side."
That quickness of thought was never more evident than in Liam Messam's counter-attacking try off turnover ball against Wales; the 21 turnovers that the home side conceded an equally painful reminder of the All Blacks' devastating work at the breakdown.
Other teams commit numbers to defend or secure possession. New Zealand will often send in just two forwards, giving them width elsewhere in both attack and defence. Very few of their players are ever out of the game, either on the ground or under a pile of bodies.
Add in a brilliance for the schoolboy basics - running straight and from deep, passing in front of the man, drawing defenders, making first-up tackles - and you have a package that few other international sides can match.
"They are always thinking and communicating," says Davies. "When the opposition kick, they will fill the space, and then they will have the opportunity to counter-attack together, because they shift the defence around and see where the slow forwards are.
"I think they are a level beyond everyone in game management - they make the right decisions at the right time. It is just a pleasure to watch them play."