Owen Farrell backs England captain Chris Robshaw over kick
Last updated on .From the section Rugby Union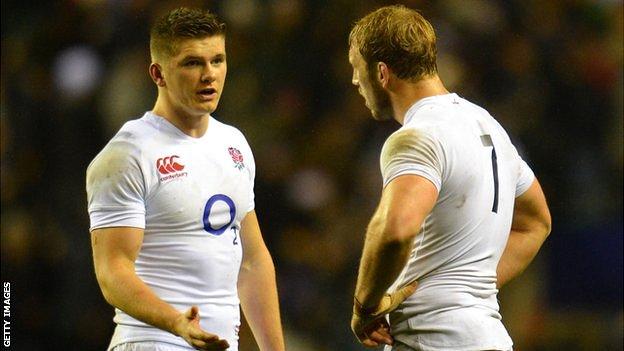 Owen Farrell has backed England captain Chris Robshaw following the kicking controversy at the end of England's defeat by South Africa on Saturday.
Robshaw ordered Farrell to kick a penalty rather than attempt to score the try that would have put England ahead near the end of the 16-15 defeat.
The Saracens fly-half was surprised by the decision, and Robshaw later admitted it was the wrong call.
But Farrell told BBC Sport: "I would never challenge his decision."
Farrell went over to discuss the decision with Robshaw before kicking the penalty, but insisted it was not a case of insubordination.
He continued: "No, he's definitely the boss. I'm just trying to give an input on the game, and where we are and what's happening in the game.
"I think that's what most captains want. Unfortunately, I was on the other side of the pitch, and maybe it was a bit too late."
The 21-year-old, a replacement for the injured Toby Flood last weekend, successfully kicked the penalty, but England, who face New Zealand at Twickenham on Saturday, ran out of time from the re-start.
Farrell added: "I think it was a difficult situation, because the ball was on the other side of the pitch, and I was fighting to get the ball back and get it over to where the penalty was made.
"Maybe once the penalty was given, we thought we had time left on the clock.
"But then we have to get on with it. We back our captain's decision. It wasn't the right or wrong decision. We've just got to make sure the next job is done well, and unfortunately we didn't do that."