Scotland players not committed says ex-captain Gary Armstrong

By John Beattie
BBC Scotland
Last updated on .From the section Rugby Union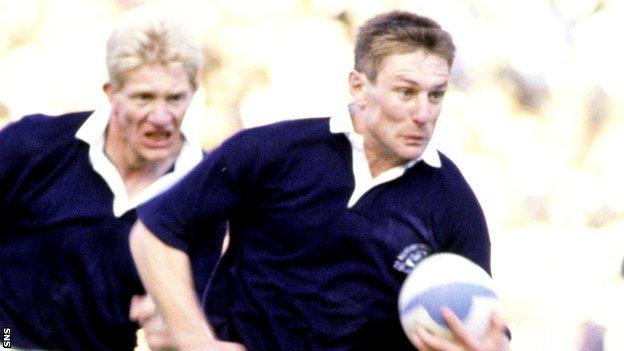 Former Scotland captain Gary Armstrong has doubts over the passion of the current crop of players.
Armstrong spoke out following the resignation of Scotland head coach Andy Robinson after an autumn Test series whitewash.
And the 51-times capped scrum-half insists the players are to blame for his departure.
"When you're watching the games, I question the commitment of some of the players," he said.
"The body language of some of the players makes you wonder if they're there for the money or if they're wanting to pull on the Scottish jersey.
And Armstrong questioned whether the players were affected enough by defeats.
"When we played, we put our body on the line," he said. "Some of the attitudes - smiling coming off the pitch - that really riles me.
"It makes you wonder what they're thinking. Does it hurt them? Because it would certainly hurt me.
In an interview for BBC Radio Scotland's Sport Nation, the former Jed-Forest and Newcastle Falcons player also voiced support for the job Robinson had been doing at Murrayfield.
"I was quite disappointed," he said. "Because I thought he was doing quite a good job.
"I think a lot of the players have to have a long, hard look at themselves.
"The coach can only do so much, and when the players cross the whitewash, it's up to them to put whatever gameplan was discussed into fruition."
And Armstrong also voiced fears over the long-term status of Scotland's national side.
"You've also got to take into account, these nations: Tonga, Samoa and the like, are improving all the time," he said.
"I don't think Scotland's improved that much since the professional game came in.
"We've been professional for a long time now and I don't think some of the skills have been honed in on."
Armstrong didn't pick out one candidate he would like to see taking over as head coach, but did say he would like whoever did take over to be a former Scotland cap.
"Someone who's played for Scotland and knows what it means to play for Scotland," he said.