Shaun Edwards "devastated" by another last-gasp Wallaby defeat
Last updated on .From the section Rugby Union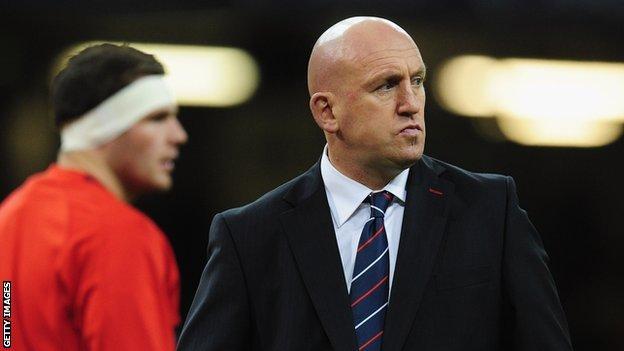 Wales defence coach Shaun Edwards says he's devastated by the latest in a long-line of last minute defeats against Australia.
Fly-half Kurtley Beale broke Welsh hearts in Cardiff with a try 30 seconds from time which gave the Wallabies a 14-12 victory.
It follows two similar last-gasp defeats in Australia in June.
"I'm devastated. It's like a movie you wouldn't believe, isn't it?" said Edwards.
"We just keep losing against Australia in the last two minutes. It's just unbelievable, you couldn't write it."
Two points or less have separated Wales and Australia in their last three meetings.
Australia won 25-23 on 16 June in Melbourne thanks to a last-minute penalty by Mike Harris.
And a week later n Sydney a late Berrick Barnes penalty gave Australia a 20-19 win.
So Saturday's loss in Cardiff left Edwards with an uncomfortable feeling of déjà-vu.
"It was a real tough test match. It's really gut-wrenching to lose it the last moments again against Australia," said the former GB rugby league international.
He said the disappointment was more acute because Wales had been in a position to win the game, three points ahead and attacking the Australian line when things started to go wrong.
"We lost a line-out on their try line, we got turned over and then from the scrum they made ground on us. Towards the end there was a little bit of inexperience from our left winger [Liam Williams], who stepped in when he should have stayed out.
"But I thought he was magnificent the whole game, all the newcomers were superb.
"Our defence was excellent all game, they never really even looked like scoring, but in the last couple of minutes we sort of froze again."
The defeat means Wales have suffered a whitewash in the autumn series, and now lost seven consecutive Test matches.
That run has seen them drop out of the top eight in the International Rugby Board rankings.
As a result, Wales are now in the third tier of seeds for the Rugby World Cup 2015 draw on Monday, a situation which could theoretically see them drawn in the same pool as world champions New Zealand and hosts England.
But Edwards defended the players, saying injuries had a major impact on their performances.
"In the summer... we've put our best ever performances together in the southern hemisphere.
"Obviously the games against Samoa and Argentina we'd have hoped to have gone our way.
"But we were down to what would have been at the start of the competition probably our fourth or fifth choice tight-head prop [Scott Andrews], who I thought was absolutely magnificent.
"I think under the circumstances of the horrendous injuries we've had, I think the boys have really fronted up well."