Darren Cave signs a two-year contract extension with Ulster
Last updated on .From the section Rugby Union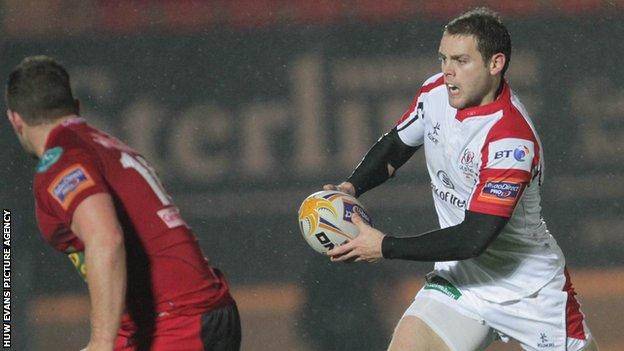 Ulster centre Darren Cave has agreed a new two-year contract at the club that will see him remaining at the Ravenhill outfit until the summer of 2015.
Cave has played 89 times for Ulster since making his debut for the team in 2007 and also has three Ireland caps.
The 25-year-old also started for Ireland against Fiji in last month's non-cap contest.
"Signing this new contract with Ulster was probably the easiest decision that I have ever made in my life," he said.
"And especially at a time when the team have just won 12 competitive matches in a row.
"I honestly think that Ulster are going to win something between now and the summer of 2015 and I would never forgive myself if I wasn't around to be a part of that."
Ulster's director of rugby David Humphreys said that he was delighted at Cave's decision to commit to the club for a further two years.
"He is a highly dedicated player, who gives his all in both training and matches," added Humphreys.
"Darren has been an important part of our success in recent seasons and the exciting thing is that his best years in an Ulster shirt are ahead of him."