Scotland rugby coach: Scott Johnson interested in top job
Last updated on .From the section Rugby Union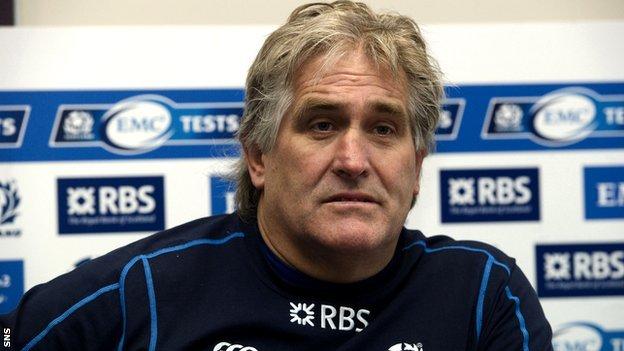 Scotland attack coach Scott Johnson has said he would be interested in taking on the role of head coach.
Andy Robinson quit as national coach after a year which saw defeat in all three autumn Tests and a Six Nations whitewash.
However, Johnson insisted he would only be interested if it was right for himself and the Scottish Rugby Union.
"If there is some synergy there, yeah I'd be interested, but it's got to be fair on both sides," he said.
"I've really enjoyed my time there, and I've really enjoyed living in Edinburgh. But now I've got to sit down and see what they think the roles are and see if there's some synergy there.
"The board and I will talk in the next week or so and then we'll make a decision on what we feel is in the best interests of the Scotland team and what's in the best interest of me.
"I've said to the board I'll walk away here, give me some time to digest the news and I'll come back in a week or so and we'll sit down man-to-man and decide," added the Australian.
Scottish Rugby Union chief executive Mark Dodson insisted he would not be rushed into making an appointment.
"We don't want to hang about when making a decision, but, equally, we don't want to rush it, " he said.
"It's only been eight days since Andy left, so we're going to talk to some colleagues inside the union and we'll take quick strides to look for the best person possible."
Dodson also indicated his preference would be for a new head coach to start before the Six Nations, but he refused to rule out an interim appointment to see the team through the campaign.
"I think we'd like to get somebody in who can start with the Six Nations and build from there," said Dodson. "But, given the time frame, we may have to look at an interim solution."
However, Dodson also insisted he expected to see more from the players.
"I think we need to be more consistent - we've got to be more competitive more regularly," he said.
"And I think this group of players have to play to their potential. I think what disappointed Andy was the inconsistency of the performances.
"There's a lot more to come form this player group and hopefully the next head coach will be able to bring that out," he added.