Rugby World Cup: Brian O'Driscoll says Ireland handed 'OK' draw
Last updated on .From the section Rugby Union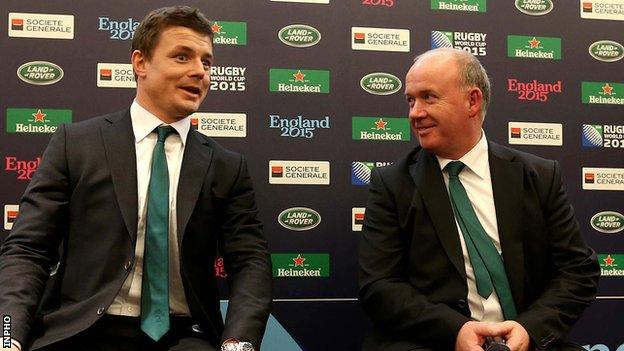 Brian O'Driscoll described Ireland's 2015 World Cup pool as an "OK draw" after they were pitted with France and Italy, plus either the USA or Canada and one of the European qualifiers.
The Ireland captain, 33, is unlikely to be involved in the tournament but still attended Monday's draw in London.
"It could have been worse," said the Ireland and Lions star.
"You're never going to lick your lips at a World Cup draw because you'll always have good quality opposition."
The Leinster centre added: "I'd imagine France and Italy are quietly happy they've drawn us. They'll think they can beat us.
"It leaves it quite open because all three are capable of beating one another.
"It's bit of a double-edged sword because when you avoid New Zealand, South Africa or Australia [in the pool], inevitably when you get to the knock-out stages you're likely to face one of them sooner rather than later."
Ireland have a dreadful record against France, winning just one of 13 meetings since 2003, a run that includes two defeats at the World Cup - in 2003 and 2007.
It will be the pivotal match in the group and O'Driscoll admits Les Bleus have a psychological edge in the fixture.
"Early in my career we managed to get a few victories against France and then all of a sudden they became a very difficult team for us to beat," he said.
"They play with a lot of confidence against us because of that record."
The Irish and French will want to top the pool as the runners-up will face a likely quarter-final tie with holders New Zealand.
O'Driscoll will be 36 when the next World Cup begins and accepts his involvement in England in three years' time is unlikely.
"I'll be there in some capacity but as a player I doubt that very much. It's far too far away to be contemplating playing.
"I think my World Cup ship has sailed but I'll be there as Ireland's number one supporter."
Ireland coach Declan Kidney described Pool D as a "really tight group".
"We're obviously playing each other in the Six Nations three times before then. We also have a tour to the Americas in June when we'll be playing Canada twice and America once," added Kidney.
"And then we have World Cup history with Russia and Georgia, so there won't be too many surprises."
Kidney may also not be in the Irish set-up at the 2015 tournament as his current contract runs out after the 2013 Six Nations and it is not certain he will be retained by the IRFU.