Jeremy Guscott's autumn internationals Q&A

By Jeremy Guscott
Former England and Lions centre
Last updated on .From the section Rugby Union184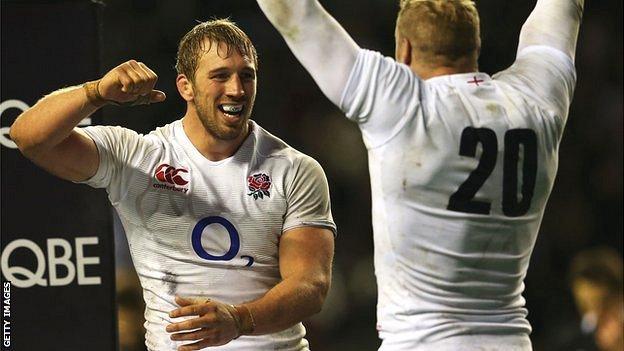 Among the topics Jerry discusses this week are:
- If England have peaked with their win over New Zealand
- What Wales need to do to start beating the big guns
- Freddie Burns's chances of winning the England 10 shirt
- Who possessed the best moustache during the 'Movember' Tests
Jerry answers questions posted on the website at the start of every week - entries are now closed for this Q&A. This week's answers appear below.
Hi Jerry, with one of England, Australia and Wales certain to go out in the group stages of the next World Cup, do you agree the draw should not have taken place this year and should have been made closer to the World Cup so that form in the next couple of years could have been taken into consideration in the rankings system? Cheers. Charlie, Scunthorpe
Hi Charlie, I agree with your suggestion, the rankings would be more up to date if they did the draw much nearer the event than they currently do. The rankings might not change that much between now and then, but I agree it would be a more accurate measure of form.
Why did New Zealand look so amateur at the weekend? I understand England played well but New Zealand's main weakness had nothing to do with the opposition. They had many unforced knock-ons, which shocked me the most, but Dan Carter missed easy tackles and kicks and they were also weak at the breakdown. This was not the New Zealand from the weeks before, was this really just down to England playing well? Callum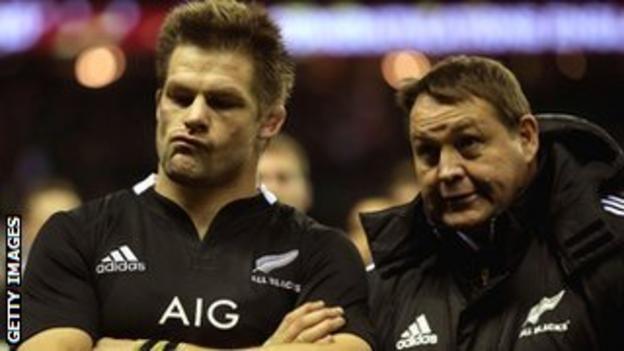 Hi Callum, New Zealand didn't lose as much ball as you might think, England only had five scrums compared to New Zealand's eight, meaning England made more errors resulting in scrums than the All Blacks. Turnovers won and conceded were very similar so there was no real advantage or disadvantage there for New Zealand either.
England didn't allow New Zealand as much quick ball as usual and they didn't miss many tackles. England's forwards were ferocious and England made the most of their chances.
Hi Jeremy, quite simply, what changed for England from playing the Aussies and Boks to playing NZ? Kop_Quins (Steve)
Hi Steve, the whole team's intensity and accuracy went up to a higher level than we've seen in previous games. The English forwards were absolutely ferocious in the contact area, they gang tackled and hammered New Zealand back. The quick ball they provided for scrum-halves Ben Youngs and Danny Care was high quality and they took their opportunities to score when they had them.
As an Englishman I was overjoyed with the victory over NZ but in the back of my mind I can't help worrying this is a peak. Do you think we can build on this to have sustained success? carr2k1987
I guess because of what's happened after 2003 you have every reason to be pessimistic. I would like to think head coach Stuart Lancaster and the players have all understood what has happened and can approach every single game hereafter with the same psychology.
Every player believed they could compete and win - the trick now is to repeat that performance. The team is relatively young and inexperienced and will still continue to develop, hopefully, into better players. I don't believe this England team has peaked, I believe they have just learnt what the game is all about.
Jeremy, with Owen Farrell having an incredibly old head on young shoulders and Freddie Burns the fearlessness of youth, where does Toby Flood now sit in England's fly-half plans? Flood has been steady but never really produced anything sparkling for England and must be worried about his future participation if these two stay fit. Martyn
Hi Martyn, Flood was fly-half when England played well against Australia under Martin Johnson a season or two ago and hasn't dramatically lost form. I believe Flood still has a place in Lancaster's squad, he's one of the most experienced players in there.
If Burns continues to play well for Gloucester, I feel it's really difficult to leave him out of the squad. Farrell does everything well apart from being a threat to defenders with a running game, and Flood is in a similar place.
This is a hard choice for Lancaster and one he has to get right. Farrell is safe, while Burns has to learn and keep his head on the level. But yes, Flood will be slightly nervous when Lancaster names his next squad of 23 to face Scotland in the Six Nations opener on 2 February.
Hi Jerry, how do you think that someone who rarely ever starts for his club in his favourite position in Farrell can make it into a shortlist of all of the best players in the world? I can think of many other players who have played exceptionally for club and country and not been given a mention. walsh99
Hi, Farrell doesn't pick the nominees for IRB player of the year - won on Monday by New Zealand fly-half Dan Carter - but I suggest he's there for his mature performances during the Six Nations, when he played with so much composure for an inexperienced 20-year-old.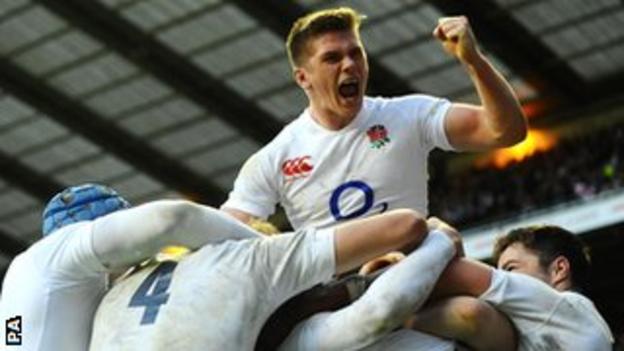 Hey Jerry, Farrell seems more like a Jonny Wilkinson than a Carter, with an excellent kicking game and defence, but not the best runner. However, England play well when he plays well, just like Wilkinson. I think this is England's style, and it's been successful in the past... do you agree? Jeff
Hi Jeff, Farrell plays in a calm manner, similar to Wilkinson, and so far he has nailed important penalties. Personally I think if Burns continues his development - and his biggest development has to be his mind - he offers more problems to opposition defensive systems.
Farrell did a great job at the weekend, he's dependable but he doesn't have the X-factor in attack. That doesn't mean England won't win in a spectacular way though, as we witnessed on Saturday.
Consistency is the key and Farrell has that, but when England don't expand their play and create chances he will be pin-pointed as the reason. The main reason for England's success at the weekend was England got quick ball from the breakdown.
Hi Jerry, on this forum a couple of weeks ago, you said that Burns would be very unlikely to get a cap this series. Now that (fortuitously) he has, do you think that his brief 15 or so minutes is the start of something more permanent? Azaer
Hi Azaer, Burns was in because Flood was injured and he hasn't done himself any harm with his 15-minute cameo. I would be surprised if Lancaster overlooked Farrell or Flood for the first Six Nations game against Scotland. Burns will continue to knock on the door providing he puts in the performances for Gloucester.
Hi Jerry, do you think Mike Brown has a permanent place on the wing? If not, should he be replaced by Wasps winger Christian Wade? Asda
Hi Jeremy, considering how well Tom Varndell and Wade are playing for Wasps, do you think they will play for England in the 2013 Six Nations? rugby10
Hi Asda & Rugby 10, it's hard for a coach to leave players out of the side after a great win like that. Brown has done a decent job on the wing but he's not a Wade or Varndell.
I thought Charlie Sharples was unlucky not to continue but Lancaster saw what Brown had to offer and hasn't been wrong so far. It's another one of those situations where if Brown has a bad game he will be dropped.
In fairness to Brown he has been playing well at full-back for Harlequins, he counter attacks well and has a good boot. If he misses a chance that most wingers would finish, then the doubt creeps in.
Jeremy, what did you think of Wales' last gasp loss? Do you think it is a sign of how mentally weak this Welsh side are or are they just not good enough? Liverpaul85
Hi Liverpaul85, Wales did almost everything right, it was a bit like the game they lost in this summer's second Test against the Aussies. A lack of concentration, a missed touch, a missed tackle and that's it.
Offensively the Wallabies dominated both in carries, with 120 to Wales' 89, and metres made with the ball in hand, with Australia managing 599m to Wales' 320m. Wales made a lot of tackles, 113 to 90, and also lost seven line-outs.
Having said all that, Wales were in position to win but couldn't close it off - the Aussie try was well taken but could have been prevented. When a team is losing there are lots of areas for people to look at. Fundamentally Wales have very good individuals but they might not be as good as first thought, despite the fact they won another Grand Slam last season.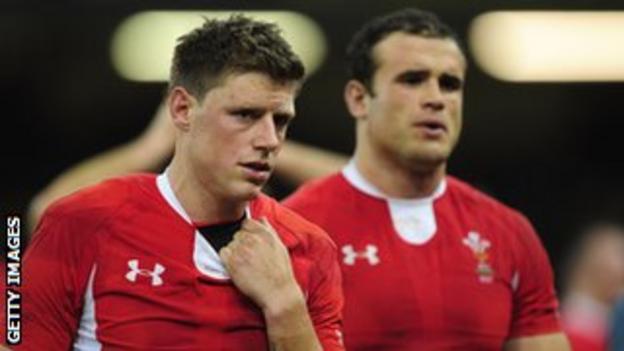 I think the Welsh team need to believe in themselves more and collectively bring the best out of themselves. It has to be a little bit of the mind not quite getting in gear and thinking clearly when the heat comes on. Remember, there are a lot of teams that have failed a lot of times before reaching a goal. England missed out on at least three Grand Slams under Clive Woodward, while New Zealand did not win the World Cup for 24 years - you have to learn from your failures.
After yet another last minute heartbreaker for Wales and an autumn series whitewash, as well as dropping out of the top eight in the world rankings, is there anything at all Welsh rugby supporters can feel positive about? InventiveShortcake
It's hard after what's just happened but this Welsh team is pretty much the same as the one that played well in the World Cup and won the Grand Slam. They will find their way back; a lot of elite sport is about getting your head in the right place and when they've mastered that consistently they will start winning again. This current Welsh team is relatively young and has some rugby maturing to do.
Hi Jerry, do you think Wales' inability to put to bed tight matches like against Australia will cost some players their Lions places? It is clearly something they have not learnt to do as a team yet. Fraser Posford
Hi Fraser, the Lions squad is a long way from being selected but no doubt a lot of Welsh players haven't done themselves any favours.
Hi Jerry, do Northampton have any hope at all of beating Ulster in the Heineken Cup on Friday? Having seen the last few Ulster wins, I'm starting to think they aren't capable of losing. Roarz
Hi Roaz, no doubt Northampton will be confident playing at home but Ulster have what appears to be an impenetrable belief in their ability right now and there's a lot to be said about a team that has that much togetherness. It's very powerful. Form suggests an Ulster win.
In your opinion, which player had the best moustache for Movember? blobvilla
Toby Flood's Merv Hughes-type tash is the one that stands out for me. People are welcome to make their own suggestions.