World Cup 2015: England want Wales game at Twickenham
Last updated on .From the section Rugby Union300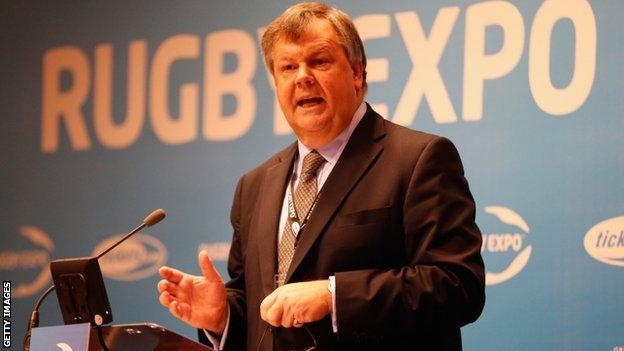 The Rugby Football Union has rejected Wales' call for the World Cup 2015 match with England to be played at Cardiff's Millennium Stadium.
Hosts England are keen to utilise home advantage and play at Twickenham.
World Cup officials will make the final decision in March.
"We appreciate the kind offer and it's a lovely place to go and play rugby but we do have a nice stadium of our own," RFU chief executive Ian Ritchie told BBC Sport.
"We think it's a great place to come and play rugby as well. It's not purely an RFU decision, the Rugby World Cup board look at it, all sorts of considerations need to happen.
"But obviously we would be extremely keen to play the match here and think that we can provide a great setting for a great game."
England are the tournament hosts, but the Millennium stadium is one of 17 venues in the bid document.
On Monday,
Wales are also keen to host their match against Australia at the Millennium Stadium.
Ritchie refused to be drawn into considering the motivation for WRU group chief executive Roger Lewis's comments.
On Monday, Lewis said: "I think they [England] would embrace the opportunity to play in the finest rugby stadium in the world."
But Ritchie added: "The Rugby World Cup board has to look at all of that, not just what happens to be a very high profile game. We will happily make our views clear on that and we'll see what comes out in about three months.
"It's always important for all of us to have a sense of humour in terms of making that invitation, but we feel we have a decent spot here to play rugby and we would be delighted to host it here as well.
"The lovely thing about the draw is that it's already engaging people to think about 2015."