New board set up to run professional rugby in Wales
Last updated on .From the section Rugby Union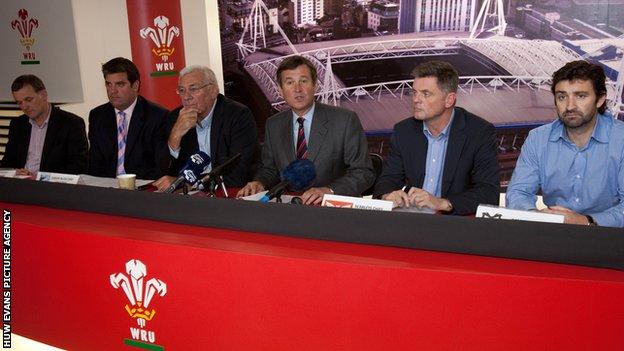 A new professional body has been set up by the Welsh Rugby Union and the four regions to run the game in Wales.
The Professional Regional Game Board (PRGB) has been created to oversee professional rugby in the wake of a report into the regional game by accountants PricewaterhouseCoopers.
That report was critical of the way Welsh rugby operated.
"The PwC report confirmed to all... that we have to act very differently," said WRU chief executive Roger Lewis.
"So we have worked hard in a spirit of unity to forge a structure that can provide workable and meaningful solutions.
"The PwC report did not make easy reading for anyone involved and the boards and management of the regions should be proud of the way they have confronted some tough realities to reach this point."
The PwC report suggested some of the four regions might not survive their financial plight and criticised "poor management".
After assessing the regions' finances up to April 2012, PwC recommended more collaboration between the WRU and regions - the Ospreys, Scarlets, Cardiff Blues and Newport Gwent Dragons - to balance the books, "enforced" by a new management board.
And that recommendation has been taken on board following the PwC report commissioned by the WRU and agreed by the regions in December 2011.
The PRGB, comprising of four members of the WRU, four members of the regions and an independent chair - yet to be appointed - will have clear objectives to improve the position and strength of Welsh professional rugby, both on and off the field.
"The formation of the new Professional Regional Game Board is a landmark moment in the history of Welsh rugby," added Lewis.
"By working together, we will create a unity of purpose for Welsh professional rugby which will be underpinned by collective management, enhanced with greater central resources and structured to ensure effective decision-making.
"The PRGB will play a significant role in helping regional rugby make real progress, both on and off the field, in the years ahead."
An agreement has been signed by the WRU and the regions and will now be incorporated into the existing participation agreement between all parties.
The PRGB, which will meet monthly, has eight definitive objectives, including maximising the performance of national teams, financial management of the regions and to help retain senior Welsh internationals playing in Wales.
Each region has agreed to set up a detailed five-year business plan with the PRGB undertaking formal quarterly reviews.
Speaking on behalf of the four regions, the chief executive of the Scarlets, Mark Davies, said: "For Welsh rugby to be truly successful we must all ensure that the game is healthy and sustainable for the long term at every level of the sport."
The first meeting of the PRGB is scheduled to take place in December 2012.