Plymouth v Bristol: Suspended points deduction for brawl
Last updated on .From the section Rugby Union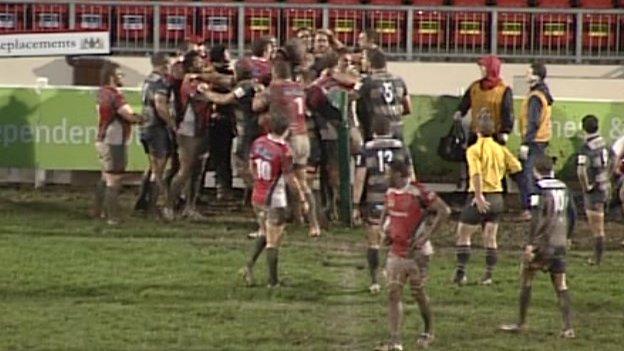 Plymouth Albion and Bristol have been given a suspended five-point deduction and fined £250 each after a mass brawl in their Championship fixture at the Brickfields last month.
More than a dozen players were involved in the fracas
Both clubs pleaded guilty to 'conduct prejudicial to the interests of the game' at a hearing on Tuesday.
The five-point deduction for both clubs has been suspended for a year.
"This is a very serious outcome for our club," said Plymouth Albion chairman Graham Stirling in a statement.
"Whilst we are relieved that there are no financial sanctions for the Club and that the five-point deduction was not instant, this will be a Sword of Damocles hanging over us for the next 12 months," he added.
Meanwhile two players cited for their involvement in the fighting have been found guilty and banned.
Bristol forward Jason Hobson, pleaded not guilty to biting Plymouth centre Bevon Armitage on the arm, but was found guilty by the panel.
Hobson was banned for 12 weeks and ordered to pay £250 costs - he will not be able to play again until 27 February 2013.
Albion hooker Jack Andrew, who was sent off in the match, admitted punching or striking an opponent.
He was banned for three weeks and ordered to pay £250 costs.
Having been banned by his club since the match Andrew is free to play again from 16 December.
"For Jack this was a very unfortunate incident, he has never before in his career received a card of any colour," said director of rugby Nat Saumi.
"On this occasion he let the build-up of events on the pitch override his better judgement and he reacted totally without thinking.
"He has expressed his regret for his actions - this is all part of becoming a seasoned player and learning to cope with the pressures of the professional game," Saumi added.