Plymouth v Bristol: Jason Hobson ban could be appealed
Last updated on .From the section Rugby Union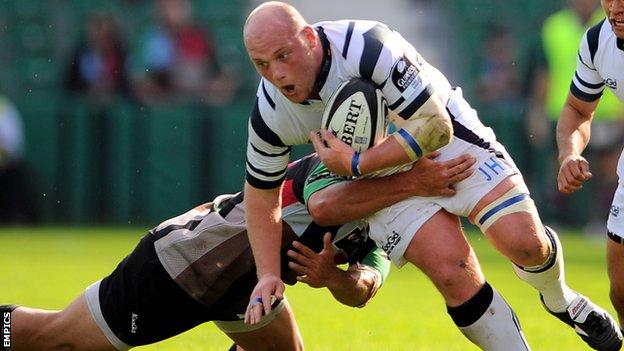 Bristol have confirmed they are considering an appeal against prop Jason Hobson's 12-week suspension.
Hobson pleaded not guilty to biting Plymouth's Bevon Armitage on the arm, but the citing was upheld by a Rugby Football Union disciplinary panel.
The incident occurred during a mass brawl for which both clubs received a suspended five-point deduction.
"We'll look at what options we have next and that may be an appeal," said chief executive Steve Gorvett.
"It's fair to say we were surprised and disappointed with the ruling," he told BBC Radio Bristol.
As it stands, Hobson, 29, will not be available to play again until 27 February 2013.
More than a dozen players were involved in the fracas at the Brickfields and both clubs pleaded guilty to 'conduct prejudicial to the interests of the game' at a hearing on Tuesday.
Gorvett said although they admitted the charge they were disappointed with the "severity" of the punishment.
"We consider this to be a one-off. We've got a very good disciplinary record and whilst it was an unsavoury incident, it wasn't as bad as some of the reports made it out to be," he said.
"The club, through head coach Liam Middleton, have already spoken to the players and will do so again.
"Clearly, the situation that arose is unacceptable and we cannot allow any repeat of that because that would then kick in the suspended points deduction."