Chris Hala'Ufia has London Irish ban overturned
Last updated on .From the section Rugby Union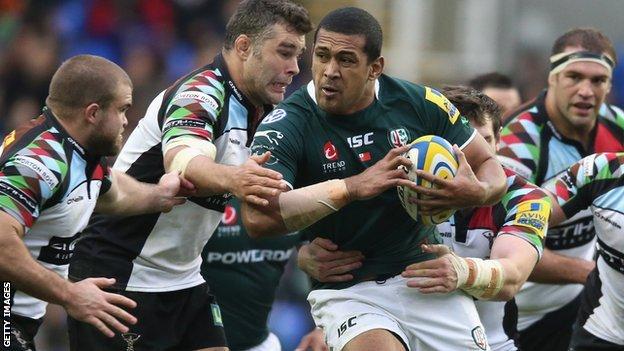 London Irish's Chris Hala'Ufia has had his five-week suspension overturned by the Rugby Football Union on appeal.
The forward, 34, was sent off after 10 minutes of his side's 15-9 Premiership defeat by London Welsh on 1 December.
He had been banned for a dangerous tip tackle on Welsh's Seb Jewell.
The Tongan number eight had been due to be out of action until 7 January, but is now free to play immediately and has been named on the bench for London Irish's Amlin Cup game at Gloucester.
"My feelings immediately after the game was that it was perfectly-executed well-timed tackle and I'm glad to say the video evidence suggests that," London Irish director of rugby Brian Smith told BBC Radio Berkshire.
Smith, however, believes Irish have still been punished though as they lost Hala'Ufia for 70 minutes last weekend and had to play Welsh with 14 men.
"Frustratingly that contest was impacted by the red card in the match," added Smith.
"I'm not saying that's why we lost the match but it certainly changed the fabric of the game.
"You're scrumming eight against seven and they clearly won penalties and kicked goals.
"It changed what we could do because our whole attacking game and defensive structure is set around 15 blokes being on the pitch for 80 minutes.
"We weren't just hindered for a short time it was pretty much the entire match. It is disappointing."