Exeter Chiefs hooker Chris Whitehead out for three months
Last updated on .From the section Rugby Union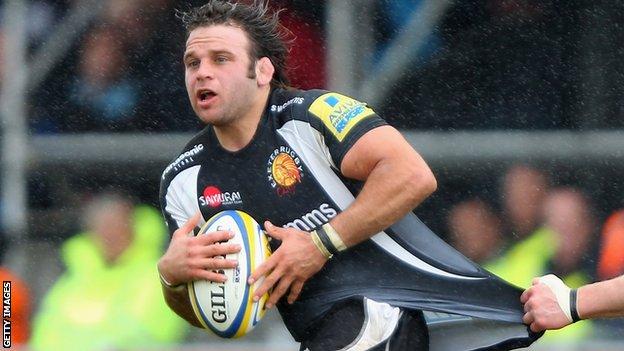 Exeter hooker Chris Whitehead will be out for three months after being told he needs surgery on a neck injury.
The 26-year-old, who will have an operation on Tuesday.
"Chris has an ongoing neck problem, a typical hooker's problem, a bit of a degenerative issue, which we ultimately have to make a decision on," said Exeter head coach Rob Baxter.
"It is either a case of letting it get worse or deal with it now."
Whitehead has played 11 times for Exeter this season, starting eight Premiership matches, and last featured in earlier this month.
Exeter's other three hookers, Simon Alcott, Neil Clark and Jack Yeandle are all fit.
And Baxter says the time was right to get Whitehead operated on.
"We feel it is right to get him treated now, get him 100%, and he should be back before the end of the season," he said.
"Chris is going to be with us for a long time.
"We don't want to keep playing him when the injury is worsening, and end up breaking him."