Jeremy Guscott's Q&A

By Jeremy Guscott
Former England and Lions centre
Last updated on .From the section Rugby Union142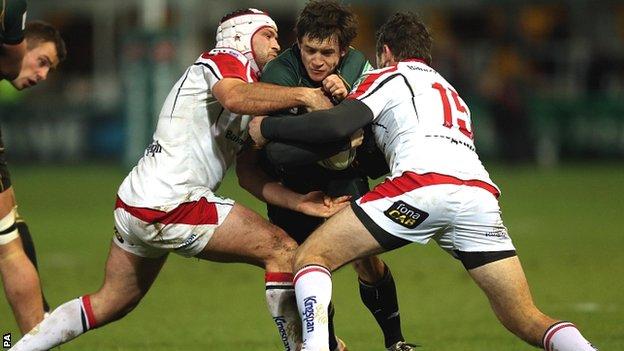 Among the topics Jerry discusses this week are:
- Who are his current favourites to win the Heineken Cup
- How Wales' Sam Warburton compares to other open-sides
- Whether the top players are being put at risk of injury
- Which coach Scotland should go for to replace Andy Robinson
- Which is better - the Super 15 or the Heineken Cup?
Jerry answers questions posted on the website at the start of every week - entries are now closed for this Q&A. This week's answers appear below.
Hi Jeremy, Another week and another victory for the impressive Ulster. They made Northampton look distinctly average. After falling at the last hurdle last year, do you honestly think they can go all the way in the Heineken Cup this year? They just appear to have real depth this year and their scrum has to be the best in Europe at present. mattalexander1788
Ulster have done enough in most neutrals' eyes to be one of the favourites to win the Heineken. Their winning run dictates that. Any team will gladly take getting to the knock-out stages with a home quarter-final, no matter the opposition they've faced during pool matches to reach that point. There will be a few teams that would dispute that Ulster have the best scrum in town, but it is arguable. They have enough pedigree from the past as former champions (in 1999) and more recently, stuffing Leicester at home last year, running Clermont very close away and winning at Munster's Thomond Park on route to the final. Ulster are a team that every other side will want to avoid.
Hi Jerry, With Clermont finally proving Leinster are beatable, at this early stage who would you bet on to win the Heineken Cup? Cayacer
Clermont are a class act and particularly difficult to beat at home. They are unbeaten there now in their last 51 games but Leinster didn't lose by many and will be confident of winning this Saturday at the RDS. Statistically the game through up some peculiar stats, Leinster carried more (109 times to 82), but only made 274m against Clermont's 406m. Clermont made a lot more tackles but Leinster missed twice as many.
Ulster looked very impressive against Northampton. They pretty much smashed Saints out of their way with the confidence of a team that's on a mission. At this moment in time, for me it's a toss-up between Clermont and Ulster to win the Heineken Cup.
Instead of selecting teams in order to simply win the 2013 6N and have northern hemisphere bragging rights for the following year, shouldn't the coaches (Stuart Lancaster has already started this process) use it instead to blood younger players and plan properly for the next RWC? rossignol
Hi Rossignol, whether we like it or not, international rugby is in the business of winning, not so much development. Not many tier-one coaches would survive a long run of defeats or a poor win-loss ratio; it's the nature of the beast. The Six Nations will never be a development tournament for the home union teams looking ahead to the World Cup. It's about winning. At best a head coach will blend in the young in-form players naturally, because they've deserved a spot through performance. Most coaches blood the youngsters when they get injuries. Because a lot of coaches won't take the perceived risk, they like to stick to the tried and tested.
Jeremy, Do you think Harlequins are going under the radar in terms of being potential winners of the Heineken Cup this year? The "easy" group tag seemingly means no-one is paying attention to them and with the good chance of the home quarter-final, do you reckon Quins have enough to go all the way to the final and win it? U14741904
Quins went quietly under the radar last weekend because they pretty much have a bye for rounds three and four (a double-header against Italian side Zebre) and there are much bigger games going on around them which they will be happy about. Quins will be pleased with another bonus-point victory at home this Saturday which will take them to 19 and pretty much qualified, and they will be up for anyone at home. Quins are a team that could win the Heineken Cup.
Jerry, Prior to the Wales-Australia game you showed some stats that highlighted how ineffective Sam Warburton is, even during the World Cup when he was supposedly amazing. Given he can't carry and doesn't win turnovers, what is it he's meant to be good at? Given Wales are also losing tight games in the last minute, it appears his leadership skills are also questionable. Lions captain? Thanks. Duncan
Hi Duncan, the stats we showed before the Wales v Australia match were comparing Warbuton to the best open-side in the world, Richie McCaw, and another world-class player in David Pocock. So it was a bit harsh, but did put his performances into perspective. The stats here show how he compares to his home nations counterparts over the past year, where he holds his own a bit more.
Hi Jerry, As several of Wales' current flock of injured players are going to be returning at or just before the Six Nations, would it be worth Warren Gatland and co. looking for some new, young and crucially, match-fit players based on form for their regions to replace those injury doubts? This would also surely spur on the regions to perform better too? Chris Madoc-Jones
Hi Chris. I'm sure Gatland will be a voice in Rob Howley's ear before and throughout the Six Nations, discussing selection. It's not very often a coach will go for inexperience over a proven international coming back from injury, although each have their way of dealing with frontline players returning after injury. Lancaster likes his players to have some games with the clubs to get match fitness before coming back into the England squad. Gatland seems to prefer picking his first choices despite their lack of match fitness; maybe he thinks a non match-fit number one is better than a fit second or third choice. Regardless of the injury situation, I'm sure every player in the regions is busting a gut to make their Wales squad, no more than normal. The big talking point in Welsh rugby at the moment is the sustainability of the professional game. Until stability off the field is achieved, not a lot will happen on it.
Jerry, With the World Cup in 2011, tours of the southern hemisphere in 2012, and Lions tour in 2013, the best of British (and Irish) will not have had an off season between September 2010 and April 2014. Whilst these guys are professional athletes, is this asking too much of players in an increasing physical game? And are unions putting players at risk of injury just to make money from the additional games? alwaysoffside
Player welfare is looked at very carefully by the respective player unions and have the full backing of their rugby unions, some financially, so there's a delicate situation. The internationals are still the biggest shop window of a sport I love, but I don't think we should go any higher than the 10-14 internationals being played a year by tier-one teams now. New Zealand played 14 Tests in 2012, England 12. But an All Black would play approximately 32 matches overall in a season, whereas for an English player it is around the 40 mark, even if not all are for 80 minutes. The game needs the revenue to underwrite it and the best players attract that support, so it has to be a workable balance which I still think needs some tinkering, i.e a global season.
Hi Jerry, with the Welsh regions and Welsh national side performing so badly, are they in danger of fighting for the Wooden Spoon with Italy and Scotland? Rugby Lad
Hi Jerry. I believe no Welsh region will win or come close to winning the Heineken Cup under the current set-up in Wales. The game between Ospreys and Toulouse showed that. Do you think it's time the WRU centrally contracted players to enable the regions to compete and keep players in Wales who can create a stronger environment for the young players to come through? Jono
Hi Rugby Lad & Jono; Every Six Nations throws up its own peculiarities which we all love, and right now, on form Wales would be ranked around third or fourth. But come the tournament, who knows! I agree no Welsh club will win the Heineken Cup and an English club is unlikely to either. The regions have a huge problem getting the bigger numbers supporting their teams; they need to work on that before possibly centrally contracting players. I would look at the brand of Super XV and try and get that going in the Pro12, which lacks an identity because it is poorly supported outside Ireland and changes its name too much.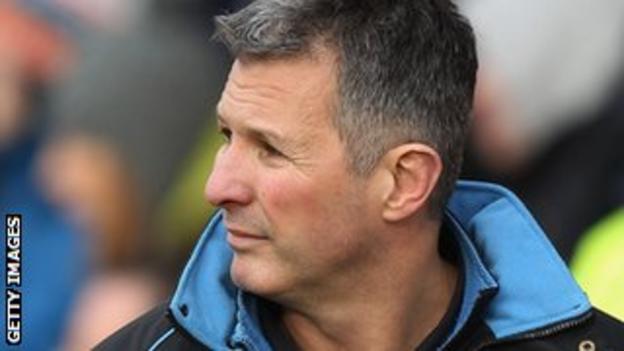 Jerry, Scott Johnson says he is interested in taking the top job at Murrayfield but so far there remains little comment from the SRU about their approach to finding a replacement for Andy Robinson. Do you think Scotland should look to the likes of Sean Lineen on an interim basis for the next 6 Nations or go for a more established coach with an international CV like Jake White or Nick Mallett? Midas_child
I think the delay is because the SRU don't really have to rush the decision to pick a replacement for Robinson. Johnson isn't going anywhere and with his current role, he'll be watching and talking to players. Johnson has got international experience with Wales and Australia as well as Scotland, but I would pick Lineen over Johnson. Lineen knows the players very well and has been part of the system, he just feels right. Having said that, if Scotland could attract Nick Mallett that would be my pick over Jake White, who I think is hanging on in Australia for when Robbie Deans might leave the Wallabies job.
What are your thoughts on Ulster's Chris Henry? Most people do not know much about him but I think he is an outstanding 7. Should there come a time where the Irish back row should accommodate him and remove Heaslip in favour of 6. Ferris 7. Henry 8. O'Brien? Ferris6
In my opinion if Henry continues in his current form, he can't be left out of the Irish team. If he didn't make the starting line-up and wasn't injured, Declan Kidney would come close to being committed by Irish supporters for not picking him. Iain Henderson and Henry are challenging the Ferris-O'Brien-Heaslip triumvirate. It's a very competitive area.
Hi Jerry, as the premier club competition in each hemisphere, which do you think is the harder competition to win: Heineken Cup or Super 15? Also which produces the higher standard? carr2k1987
Hi Jerry, One match-up I think club rugby lacks is a World Club Cup, between the European Cup and Super Rugby winners. In your opinion, if the champions (Leinster & The Chiefs) met at a neutral venue, with the same line-ups that won their tournaments (ie Brad Thorn plays for Leinster and Sonny Bill Williams for the Chiefs), who would win? Nav Sandhu
Both competitions have their own little foibles which work for the participants. One of the biggest differences would be there is no real qualification for Super 15 teams, so you should see more development of young players in those teams and more high-risk game strategy than you would see in the Heineken Cup pool games (not always true though). Once you get to a knock-out scenario in both competitions, the teams from both hemispheres have a very similar mental approach. But the styles of the teams are what they are and won't change wherever they play. Its their DNA until a coach changes it. The idea of a World Club Cup is great for the supporters and would settle an annual discussion of who is the best, but the match itself would carry very little substance or credibility in the whole scheme of global rugby. It wouldn't benefit the players who already play too many games in the northern hemisphere. It's also a question of when do you play it? You would have to create a slot in an already congested calendar. I believe in a one-off game both Leinster and the Chiefs would win at home. Over a longer stretch, I would take the Chiefs.
Jeremy, You've been given a blank cheque book, you can take over any team in the world. Who would you go for, why, and if you took the head coaching position, who would you have as your wingmen? Dan
Hi Dan, no surprises on the team I would take over, but maybe my wingman. I would take over Bath for obvious reasons, and my wingman would be Martin Johnson, although Johnno would end up taking over as head coach because we would run the ball a bit too much for his liking!