Connacht anger after Mike McCarthy agrees Leinster switch
Last updated on .From the section Irish Rugby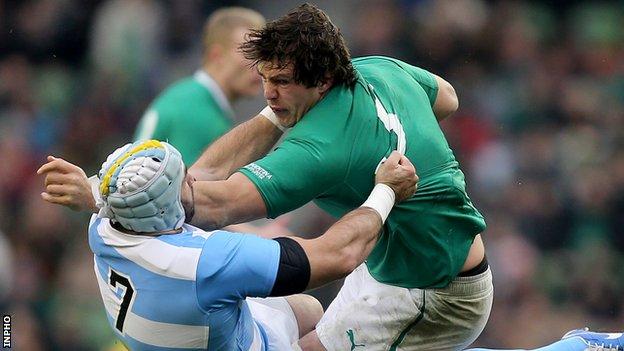 Connacht have accused Leinster of "persistently targeting" their players after Ireland's Michael McCarthy agreed a move to the Heineken Cup champions.
Last month, Connacht Rugby's chief executive Tom Sears said that the province had appealed to the IRFU to be allowed to hold on to in-form McCarthy.
However, Connacht confirmed on Wednesday that McCarthy, 31, had agreed a deal with Leinster.
McCarthy's departure will be a huge blow to Connacht.
Connacht chief Sears claimed that Leinster's regular acquisitions of Connacht players were "often not in the best interests of Irish rugby".
Sean Cronin, Jamie Hagan and Fionn Carr have all moved to Leinster from Connacht in recent seasons.
"While disappointed, particularly given the continued success of Connacht Rugby in recent years, we respect the individual player's decision and wish Mike every success in his future playing career," added Sears.
McCarthy's decision comes less than a week after he helped Connacht achieve one of their greatest ever wins as they shocked Biarritz in the Heineken Cup.
He was voted as Ireland's man of the match in recent Test defeat by South Africa in Dublin and also helped the Irish hammer Argentina in the crucial clash at the Aviva Stadium.
The London-born lock, who is expected to sign a three-year deal with the Heineken Cup champions, has now earned six Ireland caps as he replaced injured Paul O'Connell in the national side in recent matches.
Leinster have been on the lookout for a new lock since the departure of Nathan Hines to Clermont Auvergne.
Meanwhile, Biarritz have reacted swiftly to their defeat in Galway by putting head coaches Serge Mihas and Jack Isaac "on gardening leave" until 6 January ahead of Friday's return game.
Athletic director Laurent Rodriguez and direct of training Mathieu Rourre will take temporary charge of the team as Biarritz apparently make efforts to recruit a new coach.