Northampton Saints' Dylan Hartley to plead guilty to striking charge
Last updated on .From the section Rugby Union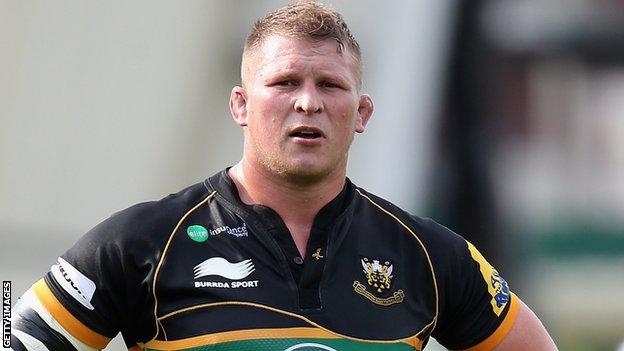 Northampton boss Jim Mallinder says he expects captain Dylan Hartley to be suspended by European Rugby Cup (ERC).
"He has been cited, we will be pleading guilty and we expect that he'll be unavailable this weekend," Mallinder told BBC Radio Northampton.
"He's our captain and our talisman and it's a frustration to lose him."
Mallinder added: "But it's competitive. He's come up against an old adversary in Rory Best and although it wasn't a massive incident, it was something.
"It's playing on the edge, but not going over it, and it's something all the players have to learn.
"We're disappointed but we'll take the punishment and it's an opportunity for other people. We've got Mikey Haywood who's played well in his absence and the experience for him to play against Best and the rest of that pack will be tremendous for him."
Saints were beaten 25-6 in the match at Franklin's Gardens and travel to Ulster's Ravenhill stadium for the return fixture on Saturday.
"With their record this season and their performance on Friday night, they showed they're one of Europe's best and the best side I've seen at the Gardens in recent years," added Mallinder.
"They set standards where we want to be but we underperformed at the weekend.
"We've spoken with the players about the opportunity they've got. Playing in the Heineken Cup, there's thousands of people who'd love to be in our shoes.
"You can go there depressed with your head down and think there's nothing in it or you can think we've got a massive game of rugby and we've got to be up to the challenge."