Connacht and Leinster argue about Mike McCarthy move
Last updated on .From the section Irish Rugby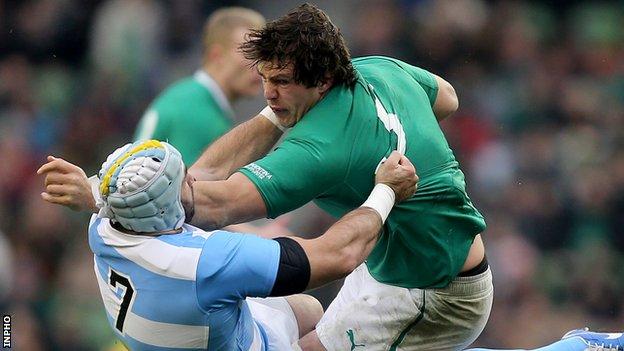 Connacht and Leinster have become embroiled in angry exchanges following Ireland lock Mike McCarthy's decision to move to the Heineken Cup champions.
After McCarthy's decision was announced on Wednesday, Connacht chief executive Tom Sears accused Leinster of "persistently targeting" his players.
However, Leinster coach Joe Schmidt said the Connacht claims were "false".
Schmidt added that Connacht need to "build an environment where their better players want to stay with them."
Sean Cronin, Jamie Hagan and Fionn Carr have all moved to Leinster from Connacht in recent seasons and Sears revealed last month that the province had appealed to the IRFU to be allowed to hold on to in-form McCarthy.
Connacht chief Sears claimed that Leinster's regular acquisitions of Connacht players were "often not in the best interests of Irish rugby".
However, Schmidt said on Thursday that McCarthy was "not the only Connacht player to express an interest in coming to Leinster".
Schmidt's latest comments led to an immediate response from the Connacht chief executive who called on the IRFU to review its procedures around players moving between the Irish provinces.
"We would take a very different view that the constant targeting of our senior players, if allowed to continue, will have a detrimental effect on the IRFU's desire to see four strong provinces representing Irish rugby and producing players for the national squad," said Sears in a statement.
"Regarding comments made on the protocols to approach players from another provinces, we do not believe the protocols are sufficient or serve Irish rugby well and I know the IRFU have recently discussed reviewing these in the near future."
McCarthy's decision comes less than a week after he helped Connacht achieve one of their greatest ever wins as they shocked Biarritz in the Heineken Cup.
He was voted as Ireland's man of the match in recent Test defeat by South Africa in Dublin and also helped the Irish hammer Argentina in the crucial clash at the Aviva Stadium.
The London-born lock, who is expected to sign a three-year deal with the Heineken Cup champions, has now earned six Ireland caps as he replaced injured Paul O'Connell in the national side in recent matches.