London Irish: Brian Smith backing for Shaun Edwards
Last updated on .From the section Rugby Union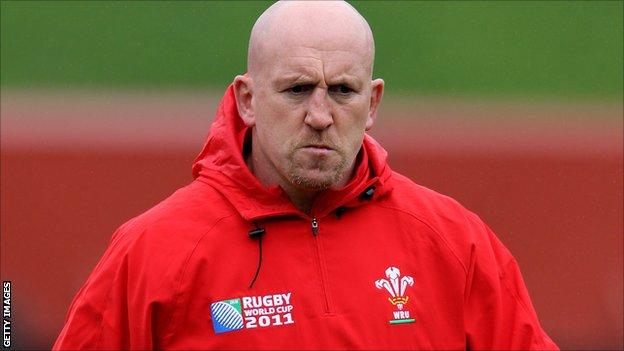 London Irish director of rugby Brian Smith says he is 100% behind the club's defence coach Shaun Edwards.
Edwards, 46, holds the same role for the Welsh national side, but has endured a difficult few months.
Irish have the worst defence in the Premiership, while Wales struggled in the Autumn internationals and Edwards was excluded from the Lions staff.
But Smith told BBC Radio Berkshire: "I am backing Shaun Edwards 100%, he's the best defence coach I have worked with."
Irish, who have conceded 25 tries and 291 points in total this season, sit second bottom in the Premiership table but Smith says he has total faith in Edwards.
"I could not speak more highly of him," added Smith. "It's a challenging time but Shaun is not missing the tackles."
Lions coach Warren Gatland called the decision to exclude Edwards "agonising" but Smith says criticism of London Irish's results this season should be directed towards himself, adding that the club will not be be looking to relinquish the former rugby league star from his position.
"In terms of the performance of the club the buck stops with me," he said.
"At the end of the day I have put together the coaching staff, I have put together some of the playing staff. But ultimately I am responsible for the programme and Shaun Edwards' track record speaks for itself and [he] is a world class coach.
"The boys love him here. He delivered an outstanding session today [Tuesday] and winning speaks in team meetings and you could hear a pin drop.
"There is a massive amount of respect for him but he is a very intense man and proud man and I am sticking with the crew I've got. Loyalty is a massive part of the game and if the club wants to get loyalty then it needs to show loyalty."
And London Irish fly-half Ian Humphreys says it is the players and not the coaches who are to blame for their poor results this season.
"Yes, you look at the score and you say, 'who's fault is this?'" Humphreys told BBC Radio Berkshire.
"But you go through each game and I would be surprised if more than two of the tries conceded were down to defensive issues.
"It is more players making defensive mistakes, players missing tackles, players not working hard enough.
"It's a cop out for a player or people to blame coaches. We are the ones on the pitch and if we do not do what they tell us then that is not their fault.
"We do not need to defend Shaun Edwards, his record speaks for itself and I see him as one of the best I have ever worked with. It is the players' fault we are losing."